Atlanta, GA – On Saturday October 11th, 2014, the Leading Through Living Community, LLC (LTLC) will host the second stop of its nine city tour in Fort Campbell, Kentucky entitled the "Leading Lady Legacy: 10 Steps to Become the Leading Lady of YOUR Life!".
Featuring Leadership Champion Lynita Mitchell-Blackwell and Love & Relationship Maven Cynthia Walton, this tour will feature empowering, inspirational, motivational, and fun sessions facilitated by Mitchell-Blackwell, Walton, and the following local experts: Publisher Alberta Lampkins on Business Acumen, Veronica Martin on Resilience, Elder Meaghan Davis on Spiritual Strength, and Beverly Tate on Health & Wellness. Small Business Expert Sonji Willingham will be our guest Mistress of Ceremonies.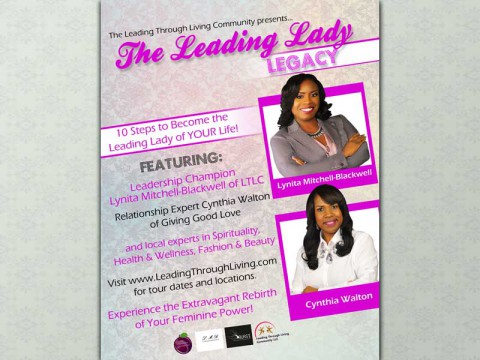 Lynita Mitchell-Blackwell is excited to share the Leading Lady Legacy with the ladies of Fort Campbell. "So many of us think that we have to emulate others to be successful. The truth is, we have everything we need to be the women we've always wanted to become. WE are the ones we've been waiting for all of our lives!"
Cynthia Walton shares the excitement. "Success without love is hollow. We all want to share our hopes and dreams with someone special. I will guide our Leading Ladies through proven relationship strategies I've used to help women get the love they want and deserve."
The Leading Lady Legacy kicked off in Lanett, Alabama, and features stops in Columbus, Georgia; Greenville, South Carolina; Raleigh, North Carolina; Baton Rouge, Louisiana; Jacksonville, Florida; Fort Hood, Texas, and Atlanta, Georgia.
For a fabulous day of empowerment, friendship, support, fun, and beauty that will begin a journey to "facilitate the deliciously extravagant rebirth of feminine power", join LTLC at the Fort Campbell Family Resource Center Saturday, October 11th, 2014 10:00am to 2:00pm. To purchase tickets, visit www.LeadingLadyLegacy.com or Eventbrite.com
About Leading Through Living Community
The Leading Through Living Community LLC (LTLC) is a training and development organization that encourages, equips, and champions people to be leaders professionally, personally, and within their communities.  We are an organization of people who help others discover their purpose, harness their passion, and focus and unleash their power to achieve great things!