Austin Peay (0-6) vs. Murray State (2-4)
Saturday, October 18th, 2014 | 6:00pm CDT
Clarksville, TN | Governors Stadium

Clarksville, TN – After playing its final non-conference game last weekend against Mercer, Austin Peay now will settle back into Ohio Valley Conference play for the final six weeks.
Up first will be rival Murray State, 6:00pm, Saturday, at Governors Stadium.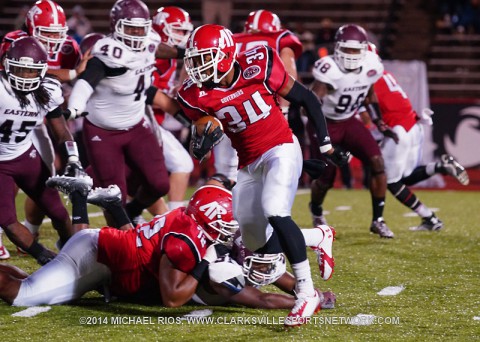 The Governors come in still seeking that elusive first victory. The Governors, who are amidst an 18-game losing streak, are coming off their season's best offensive performance, scoring 21 points and rolling up 362 yards total offense.
But the Govs could not overcome a nightmarish first quarter that saw Mercer tally 28 points.  The Governors also could not overcome a season-high 116 yards in penalties.
Freshman running back Otis Gerron continued to emerge against the Bears, He ran for 196 yards and a TD—an 89-yard run. The rushing yards were the most by a Govs since Ryan White ran for 228 in the 2009 season.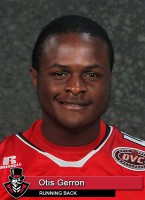 Defensively, the Govs were unable to create a turnover for the fourth straight contest. Linebackers Antonio Turner, Adam Noble and Louis Benedict led the Govs in tackles while defensive linemen Malcolm Goines and Tyler Schneider each had sacks.
Murray State may have salvaged its season last week, snapping a four-game losing streak while defeating No. 23 Southeast Missouri, 44-41, in double overtime win. Racers' quarterback KD Humphries threw for  six touchdown passes against SEMO,  throwing for 297 yards. For his efforts he was named OVC Offensive Player of the Week and The Sports Network's National Offensive Player of the Week.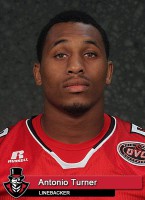 The Racers, now 2-4 overall and 1-2 in the OVC, still are seeking their first road triumph. However, two of those road defeats were to FBS opponents Louisville and Western Michigan.
Humphries owns a talented receiving corps. Jeremy Harness leads the way with 42 catches for 371 yards and five TDs. Janawski had 30 receptions for 426 yards and seven TDs while Nevar Griffin had 29 catches for 393 yards and a trio of scores.
Junior transfer St. Pierre Anilus made the most of last-minute start against Southeast Missouri by leading the team with 18 tackles. He also came up with a 13-yard sack in the first overtime in a key defensive play.
The contest will be available online via ESPN3. Kevin Ingram and Bob Belvin will have the call.
Austin Peay Offensive
The Govs' 21 points against Mercer were more than they had scored in the season's first five games.
The Governors' 362 yards total offense against Mercer were the most by the Govs this season. The previous best was 224 yards against Eastern Illinois.
The Governors converted a season-best seven third down (16 attempts) against Mercer. The 44 percent conversion rate also was a season high. APSU came converted just 16 percent of its third-down attempts.
Freshman walk-on running back Otis Gerron broke off a fourth-quarter 89-yard TD run, the Govs' longest TD run since Jay Bailey had a 99 yarder against Valparaiso, September 23rd, 2000. The last time APSU had a rusher break off at least an 80-yard run was Terrence Holt (80 yards) vs. Eastern Kentucky, September 24th, 2009.
Gerron's 196 rushing yards were the most by a Gov since Ryan White had 228 against Southeast Missouri, October 10th, 2009. The last time a Gov ran for more than 175 yards was Omar Williams, who had 179 yards against Jacksonville State, November 2nd, 2013.
Austin Peay Defense
For a fourth straight week APSU started two freshmen defensive ends against Mercer. This past week it was walk-on Jule Pace (four tackles) and Tyler Schneider (three tackles, 1.5 for loss). Schneider and Pace have started three of those four games while Taylor Parris and Schneider started against Illinois State.
Meanwhile, another freshman, defensive tackle Nicholis Matiere-Bey, has taken considerable amount of snaps at defensive tackle the last four weeks since moving from end. He was credited with 0.5 tackles for loss at Mercer.
In the defeat by Mercer the Govs defense failed to force a turnover for a fourth straight game.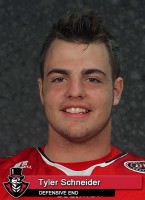 The last time APSU created a turnover was in Week 2 against Chattanooga, September 13th.
Linebackers were the Govs leading tacklers against Mercer. Starting strongside linebacker Antonio Turner, a sophomore, led the way with eight stops, including 1.5 for loss. Freshman Benedict Louis had seven stops as did junior Adam Noble.
Freshman defensive end Tyler Schneider had the Govs' only sack against Mercer. He finished the night with 1.5 tackles for loss.
Broadcast Information
Radio • Governors Sports Network
Play-by-Play: David Loos
Analyst: Van Stokes
ESPN3 • Online Broadcast
Play-by-Play: Kevin Ingram
Analyst: Bob Belvin
Producer: Adam Coppinger
Governors on the Web
Online Video
www.espn3.com
Live Statistics
www.LetsGoPeay.com
Live Audio
www.LetsGoPeay.com/showcase
Video – Kirby Cannon