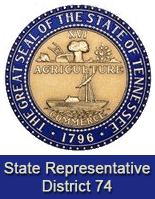 Nashville, TN – Tennessee State Representative John Tidwell would like to announce a grant for The Johnsonville State Historic Park. The grant was the remaining part of an original $250,000 grant to the Raise the Gunboat Organization.
Representative Tidwell who is also a member of "The Raise the Gun Boats Board of Directors". He revised the state grant, so that the Johnsonville State Historic Park can use the remaining money to retrieve, restore and display Civil War artifacts in appropriate cases.
The unused part is $42,704.04 before expenses.
This year, 2014 marks the 150th Anniversary of the Battle of Johnsonville. To commemorate the historic event, Johnsonville State Park and Nathan Bedford Forrest State Park will host several events in October and November.
On Tuesday, November 4th, the actual date of the Battle of Johnsonville, there will be an 11:00am commemoration ceremony and a 1:00pm walking tour at Johnsonville. The tour will include visits to many of the original Union defenses that saw action during the Battle of Johnsonville 150 years to the day.