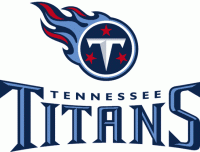 Nashville, TN – The Tennessee Titans (2-9) fell to the Philadelphia Eagles (8-3) Sunday at Lincoln Financial Field 43-24. The Titans day got off to a rough start when the Eagle's Josh Huff took the opening kickoff 107 yards for a touchdown.
On their first drive, Philadelphia scored again on a 4 yard run by Darren Sproles. Later, Cody Parkey connected on a 36 yard field goal which gave the Eagles a 17-0 lead in the 1st quarter. The slow start was something Tennessee just could not overcome.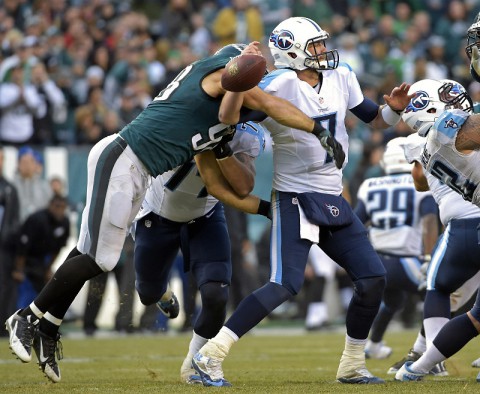 The Titans began the 2nd quarter with Zach Mettenberger connecting deep to Justin Hunter for a 40 yard strike. They followed it up on their next drive with a 2 yard touchdown run by Shonn Greene. The half ended with Philadelphia up 27-17.
"Well I mean, when you're on the road in a place like this against a team that will score some points, it's not the way you want to start the game off. So it's tough. But to get down 17-0, I thought we made a good recovery in the second quarter. But that doesn't do you good if you can't finish," stated Titans head coach Ken Whisenhunt.
For Tennessee, Mettenberger was 20 of 39 passing for a career-high 345 yards, two touchdowns and an interception. He also set a new single game franchise record for total yardage by a rookie passer. The previous record was owned by Jacky Lee with 331 passing yards.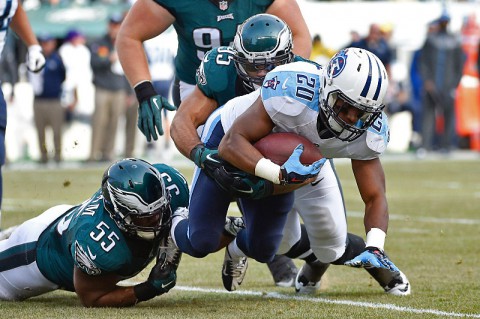 Tight end Delanie Walker pulled in five catches for a career high 155 yards. It was his second career 100-yard receiving game. It was also the second highest receiving yards in franchise history by a tight end. Justin Hunter had four receptions for 64 yards and a touchdown.
"Yea, I was told I had 155 yards and 5 catches. With me coming back after missing the Ravens game, I was a little fresh. Me and [QB] Zach [Mettenberger] were really connecting with each other. He was seeing the coverage well and I was running some good routes. My job is to make the quarterback look good, and I think that's what I did today," said Delanie Walker.
Nate Washington caught four balls for 63 yards. He hauled in a 21 yard pass in the second quarter that put him over 6,000 yards receiving in his career.
The running game however, wasn't there again for the Titans. Bishop Shankey had 37 yards on 10 attempts and Shonn Greene ran for 15 yards on 6 carries. Green also scored on a 2 yard run.
Mark Sanchez connected on 30 of 43 passes for 307 yards, a touchdown and two interceptions for the Eagles. Jordan Matthews caught 6 balls for 77 yards. Jeremy Maclin had 59 yards on 6 receptions.
After catching some heat from the press this week about his numbers being down on the year, running back LeSean McCoy went off on the Titans for 130 yards on 21 carries. He also had a 2 yard touchdown run. For the day, he averaged 6.1 yards per carry.
"Okay, obviously a tough day for us on a lot of fronts. It didn't go the way we wanted it to. I thought we fought back in the second quarter after a terrible start and tried to make a game of it, but ultimately, two turnovers in the second half hurt us and that was frustrating, said Whisenhunt.
"We had a number of injuries. I can tell you the ones that I know. [LT] Taylor Lewan's got an ankle. [C Brian] Schwenke's got a knee. [OLB] Kamerion [Wimbley] has got a hamstring. [S Michael] Griff[in] has got a shoulder. And we have two backs – [RB] Dexter [McCluster] and [RB] Bishop [Sankey] that are both being evaluated for a possible concussion," Whisenhunt stated. "And I'm sure we've got a few others in there because I know we had a lot of guys nicked up today."
The Tennessee Titans are on the road again next Sunday, November 30th when they face the Houston Texans at NRG Stadium. Kick off is at 12:00pm CST.
Box Score
Tennessee Titans 24, Philadelphia Eagles 43
| | | | | | |
| --- | --- | --- | --- | --- | --- |
| | 1 | 2 | 3 | 4 | Final |
| Tennessee Titans | 0 | 17 | 0 | 7 | 24 |
| Philadelphia Eagles | 17 | 10 | 7 | 9 | 43 |
Tennessee Titans

Passing
CP/AT
YDS
TD
INT
Z. Mettenberger
20/39
345
2
1
Rushing
ATT
YDS
TD
LG
B. Sankey
10
37
0
13
S. Greene
6
15
1
4
D. McCluster
1
2
0
2
Z. Mettenberger
2
-2
0
-1
Receiving
REC
YDS
TD
LG
D. Walker
5
155
0
68
J. Hunter
4
64
1
40T
N. Washington
4
63
0
22
K. Wright
1
28
0
28
D. McCluster
3
15
1
6T
B. Sankey
2
14
0
9
B. Schwenke
1
6
0
6
Fumbles
FUM
LOST
REC
YDS
Z. Mettenberger
1
0
0
0
B. Sankey
1
1
0
0
B. Schwenke
1
1
0
0
A. Levitre
0
0
1
0
Kicking
FG
LG
XP
PTS
R. Succop
1/1
20
3/3
6
Punting
NO
AVG
I20
LG
B. Kern
6
40.7
2
57
Kickoff Returns
NO
AVG
TD
LG
L. Washington
3
31
0
44
A. Andrews
2
23
0
27
B. Sankey
2
22
0
26
Punt Returns
NO
AVG
TD
LG
S. Greene
1
0
0
0
M. Griffin
1
5
0
5
D. McCluster
1
8
0
8
Philadelphia Eagles

Passing
CP/AT
YDS
TD
INT
M. Sanchez
30/43
307
1
2
Rushing
ATT
YDS
TD
LG
L. McCoy
21
130
1
53
D. Sproles
6
25
1
13
C. Polk
7
5
0
4
M. Sanchez
4
4
0
6
Receiving
REC
YDS
TD
LG
J. Matthews
6
77
0
24
J. Maclin
6
59
0
18
R. Cooper
3
49
0
21
B. Celek
5
48
0
15
Z. Ertz
4
30
0
10
C. Polk
1
15
0
15
J. Casey
1
14
1
14T
D. Sproles
3
14
0
10
L. McCoy
1
1
0
1
Fumbles
FUM
LOST
REC
YDS
N. Allen
0
0
1
3
C. Barwin
0
0
0
0
B. Fletcher
0
0
1
0
M. Kendricks
0
0
0
0
B. Logan
0
0
0
0
Kicking
FG
LG
XP
PTS
C. Parkey
5/6
50
4/4
19
Punting
NO
AVG
I20
LG
D. Jones
3
40.7
1
49
Kickoff Returns
NO
AVG
TD
LG
C. Polk
2
24
0
30
J. Huff
1
107
1
107
Punt Returns
NO
AVG
TD
LG
D. Sproles
6
8
0
13