Austin Peay (2-5) vs. Southern Illinois (4-3)
Saturday, December 6th, 2014 | 7:35pm CT
Carbondale, IL | SIU Arena

Clarksville, TN – The final leg of Austin Peay State University's six-game road journey will take place in Carbondale, IL, 7:35pm, Saturday, when the basketball Governors face Southern Illinois in a non-conference basketball contest.
This will be the second Missouri Valley Conference team the Govs have faced this season. They lost to Indiana State, 61-57, in Terre Haute, IN, November 24th.
This will conclude a trek that has seen the Govs crisscross the country and totaled 3,380 miles, including 1360 miles via the highway.
APSU will be facing an SIU team that crafted a 4-3 early season record, despite opening the season with five straight road contests. The Salukis already are 2-0 against the Ohio Valley Conference, both road wins at Tennessee State, 84-67, November 18th, and at SIUE, 79-67, Wednesday.
The Salukis have been able to gain a winning record, despite playing just one home game, largely because of owning one of the nation's top scorers in guard Anthony Beane (21.3 ppg, 10th nationally), the ability to shoot free throws (74.1 percent) and rebound (+2.9 advantage).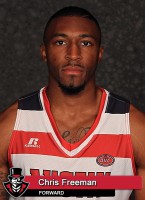 Beane, only a junior, is shooting 56.1 percent from the floor, including 46.2 from three-point range. The Salukis also got a big boost from freshman guard Chaz Glotta against SIUE—he had 13 points. He is the older brother of APSU signee Zach Glotta.
"Southern Illinois is a good team with a great player," APSU coach Dave Loos said. "Anthony Beane is putting up some really big numbers. Like I said he is very good player whose dad has been around this a longtime as a coach.
"It will a challenge for us against a good team on the road in another tough place to play."
Although the Govs are 1-4 on their road swing, they still are seeking that first true road win. To get that first road victory, the Governors will need more offensive consistency. The Govs shot just 35 percent from the floor in the road loss to Indiana State before shooting a season-best 53 percent against Brown.
However, in the Las Vegas Invitational finale against Stephen F. Austin, APSU shot just 42 percent (20 of 48) from the floor.
The consistency issue also is related to player productivity. Against Brown, starting forward Chris Freeman (career-high 20 points) and senior guard Ed Dyson (18) combined for 38 points but just two against Stephen F. Austin.
The Govs also must recapture the defensive tenacity displayed through much of the season's earlier contest. Stephen F. Austin torched APSU with 63 percent shooting.
The Vegas Trip
Austin Peay had a 24-0 run to put the Brown game away in the second half.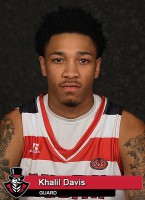 The Govs shot 53.2 percent (33-for-62) from the floor against the Bears.
Senior Chris Freeman put together a career-best 20-point performance, hitting 10-for-12 from the field against the Bears.
Junior Khalil Davis narrowly missed a double-double, with 10 points and nine boards.
The Govs harassed Brown into committing 21 turnovers.
For the first time in 2014-15, Austin Peay's bench outscored its opponent (17-9), led by Tre' Ivory and Assane Diop with six points apiece.
Junior Zavion Williams had season-bests in assists (5) and steals (5).
Khalil Davis scored a career-high 25 points against Stephen F. Austin.
Chris Horton recorded his career's 24th double-double with 12 points and 10 rebounds against Stephen F. Austin.
Freshman guard Josh Robinson recorded his season's third double-figure scoring game with 12 points off the bench against Stephen F. Austin.
The Series
This is the 16th meeting between the two programs, with APSU trailing the series 6-9. APSU won last season's meeting 72-70 in Clarksville. When the two teams met in 2010 it was the first contest in 15 seasons.
What A Win Would Mean
It would make the Govs 3-5 in 2014…it would be the Govs first road victory in the 2014-15 season…the Govs would go to 1-0 in December…it would make the Govs 7-9 all-time against Southern Illinois…it would be APSU's first road win in Carbondale since December 20th, 1995…it would make APSU 20-40 all-time against Missouri Valley schools…it would make Dave Loos 3-5 against SIU…it would give Loos a 2-0 record against SIU coach Barry Hinson…it would be Dave Loos' 468th career victory.
What A Loss Would Mean
The Govs drop to 2-6 in 2014…it would be the Govs second straight loss…they Govs would fall to 0-5 on the road for the season…they would drop to 1-6 away from the Dunn Center…they would drop to 0-2 against the Missouri Valley this season…they would go to 0-1 in December…Loos would drop to 467-410 overall and 385-357 as the Governors head coach.
Broadcast Information
Radio • Governors Sports Network
Play-by-Play: David Loos
Analyst: Brad Kirtley
Govs on the Web
Live Audio: www.LetsGoPeay.com
Live Statistics: www.siusalukis.com/gametracker
Video – Dave Loos