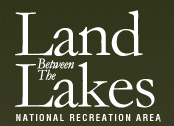 Golden Pond, KY – Jordan Abernathy with Boy Scout Troop 200 in Paducah Kentucky completed his Eagle Scout project on November 15th, 2014, at Land Between The Lakes National Recreation Area.
Completion of an in-depth, public service project is required to attain the highest rank in the Boy Scouts–an Eagle Scout. Jordan designed, built, and installed an arbor with a bench in the Nature Station's Backyard Native Gardens and hummingbird feeding area.
"Visitors now have great vantage point for observing, enjoying, and photographing our hummingbirds and other wildlife," says Aviva Yasgur, a Naturalist at the Nature Station. "We'll grow Trumpet Vine and Crossvine which produce large red flowers that attract hummingbirds in spring and summer. The Nature Station staff is very proud of Jordan and excited for our visitors to use and enjoy his arbor next season!"
Since May, Jordan carefully designed and constructed the arbor to endure the elements and integrate with the surrounding environment. Jordan recruited and led his fellow scouts to help install the arbor.
The 8-foot tall structure, with its 6-foot bench and hangers for hummingbird feeders, allows flowering vines to grow up the latticework and provides visitors a place to sit and enjoy the natural scene.
Land Between The Lakes National Recreation Area manages more than 170,000 acres in western Kentucky and Tennessee as part of the U.S. Forest Service and the Department of Agriculture's public lands program. Land Between The Lakes offers outdoor recreation, lake access, land management, and environmental education to over 1.4 million visitors annually.
The Friends of Land Between The Lakes works in partnership with the Forest Service providing program services, funds development, and volunteer support.
To find more information about Land Between The Lakes, log on to the official website at www.landbetweenthelakes.us or call toll-free at 1.800.LBL.7077 or local at 270.924.2000. For more information on the Friends of Land Between The Lakes, log on to www.friendsoflbl.org .
To subscribe to the official electronic newsletter, send an email to LBLinfo@fs.fed.us. Land Between The Lakes official Twitter accounts include @LBLScreechOwl, @LBLNature, @LBLHomeplace, and @LandBtwnLakes.
USDA is an equal opportunity provider and employer.