Austin Peay Sports Information

Missoula, MT – Junior Tiasha Gray recorded her second career triple double to help lead Austin Peay State University women's basketball to an 86-81 victory against Saint Louis, Friday night, at the 34th Annual Lady Griz Classic hosted by Montana at Dahlberg Arena.
Gray finished with 12 points, 12 assists and 10 rebounds, but had just eight points with 3:31 remaining. She scored her final four points at the free-throw line to help seal the win.
The triple double outing came 13 months and one day since her first against Trevecca, November 18th, 2013.
"When Tiasha plays like she did tonight it makes us a better team," said Lady Govs head coach Carrie Daniels. "She may not have had her best shooting night, but she brought energy and she battled and that fed the team."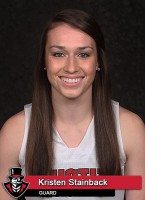 Leading 39-32 at halftime, Austin Peay (3-8) quickly expanded its lead to 14 points with a 10-3 run in the opening 2:14 of the second half. Sophomore Beth Rates and senior Kristen Stainback jump started the run with a jumper and three-pointer, respectively, in the opening 23 seconds. Junior Symantha Norton hit a three-pointer at the 18:36 mark to end the run with APSU leading 49-35.
Austin Peay has had trouble with droughts throughout the season and they ran into one after that Norton basket. Saint Louis (5-5) would climb back into the contest with a 20-5 run over the next 6:25, Denisha Womack's three-pointer with 12:28 left ending the burst while giving the Billikens their first lead of the half, 55-53.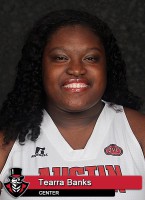 The Lady Govs did not allow the run to snowball into bigger things, never allowing the Billikens to get more than a three point lead. Austin Peay took control of the game for good with a 7-0 burst. Stainback again hit a three pointer to start the run then sophomore Tearra Banks followed with a pair of jumpers to push the APSU lead to seven points, 78-71, with 3:03 left.
"I was proud of the way we battled as a team tonight," said Daniels. "Saint Louis charged back into the game but we didn't allow it to become something bigger. We stood our ground and came up with some clutch baskets down the stretch. This was the type of game we can build from."
Gray hit a jumper with 2:29 left then converted one-and-one free throw opportunities with 22 and 12 seconds left to finally reach the 10-point mark. Stainback would hit another pair of free throws with five seconds remaining to cap a perfect 15-of-15 night from the free-throw line for Austin Peay.
Saint Louis led for nearly four minutes in the opening nine minutes of the contest. Austin Peay would use back-to-back three pointers by freshman Madison Rich and sophomore Jacey Scott to grab a three-point, 19-16, lead with 11:06 left in the half. Rich would hit another three pointer six minutes later to push APSU's lead to seven points, 31-24, which it would maintain into halftime.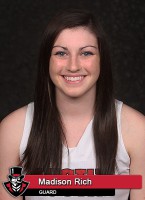 Banks led Austin Peay with 20 points on 9-of-13 shooting and also had seven rebounds and two blocked shots. Stainback added 16 points as she went 4-of-9 from the floor and 6-of-6 at the free-throw line.
Austin Peay had a season-best shooting performance from all areas of the court. They made 50.8 percent (31-of-61) from the floor, including a season-best tying 56.3 percent (9-of-16) from three-point range. Their 15-for-15 outing at the free throw line was their first perfect outing from the stripe since February 18th, 2010.
Womack led Saint Louis with 20 points and eight rebounds off the bench, going 6-of-9 from the floor and 6-of-6 at the free-throw line. Sadie Stipanovich had 18 points and six rebounds.
Austin Peay will play the winner of the Montana/Utah Valley contest at a time to be determined, Saturday. Updates will be available at www.LetsGoPeay.com, the official website of Austin Peay athletics.
Box Score
Austin Peay 86 (3-8) vs Saint Louis 81 (4-6)
| | 1 | 2 | Total | Records |
| --- | --- | --- | --- | --- |
| Saint Louis | 32 | 49 | 81 | 4-6 |
| Austin Peay | 39 | 47 | 86 | 3-8 |
Saint Louis 81
##
Player
FGM-FGA
3FGM-3FGA
FTM-FTA
OFF-DEF
TOT
PF
TP
A
TO
BLK
STL
MIN
40
Stipanovich, Sadie
6-9
0-1
6-6
2-4
6
4
18
0
0
1
1
24
12
Jakubicek, Olivia
5-14
0-4
3-4
6-2
8
1
13
3
1
0
1
30
3
Kemph, Jackie
4-9
0-1
0-0
0-1
1
1
8
4
3
0
1
29
10
Vliet, Jenny
4-5
0-1
0-2
1-1
2
1
8
8
1
1
1
34
11
Price, Jamesia
1-7
0-4
2-4
1-5
6
2
4
3
1
0
3
34
34
Womack, Denisha
6-9
2-3
6-6
2-6
8
3
20
1
1
0
2
25
33
Nelson, Erin
2-11
2-5
2-2
0-0
0
0
8
1
1
0
0
19
23
Ball, Desirae
1-3
0-0
0-0
0-1
1
2
2
0
1
0
0
5
0
TEAM
0-0
0-0
0-0
3-2
5
0
0
0
0
0
0
0
Totals
29-67
4-19
19-24
15-22
37
14
81
20
9
2
9
200
Percentages
43.3%
21.1%
79.2%
Austin Peay 86
##
Player
FGM-FGA
FGM3-FGA3
FTM-FTA
OFF-DEF
TOT
PF
TP
A
TO
BLK
STL
MIN
25
Banks, Tearra
9-13
0-0
2-2
2-5
7
3
20
1
4
2
1
27
04
Stainback, Kristen
4-9
2-5
6-6
0-1
1
0
16
1
4
1
1
31
01
Gray, Tiasha
4-13
0-1
4-4
1-9
10
2
12
12
3
0
2
39
24
Rates, Beth
4-7
0-0
3-3
3-2
5
2
11
1
0
2
1
27
42
Norton, Symantha
3-4
2-2
0-0
0-1
1
1
8
0
0
0
0
10
12
Rich, Madison
3-6
3-5
0-0
0-1
1
0
9
2
2
0
0
30
44
Scott, Jacey
2-4
2-3
0-0
0-1
1
2
6
2
0
0
1
19
21
Nwokocha, Jennifer
2-4
0-0
0-0
0-3
3
3
4
0
0
2
0
12
23
Gooch, Sydney
0-1
0-0
0-0
0-0
0
3
0
0
0
1
0
5
TM
TEAM
0-0
0-0
0-0
2-1
3
0
0
0
0
0
0
0
Totals
31-61
9-16
15-15
8-24
32
16
86
19
13
8
6
200
Percentages
50.8%
56.3%
100.0%