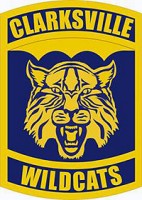 Dover, TN – With two of its leading scorers and rebounds in foul trouble most of the afternoon, Saturday, December 27th at the Bill Craig Memorial Gymnasium, Clarksville High School's girls basketball team got a lift from its perimeter players, as the Lady Wildcats defeated Cheatham County Central High School, 59-52 to open the Stewart County Rebel Christmas Tournament.
With Haley Bearden and Ta'Tayana Outlaw in foul trouble for Clarksville High (7-8) guards Ellie Treanton, JK Cummings and Hannah Goins picked up the scoring slack for the Lady Wildcats, as the trio combined for 40 of the team's 59 points and all six of its shots from behind the three-point arc.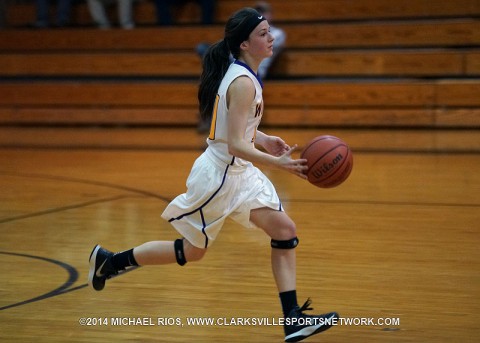 In fact, it would be a three by Goins, with 6:54 left in the third quarter to make it 32-31 that would give Clarksville High the lead good.
Goins would lead Clarksville High with 16 points.
The Lady Wildcats would push its lead out to four points, 35-31, before a couple of free throws by Cheatham County (7-5) would make it a two-point game, with 5:03 left in the third quarter.
But two free throws and a bucket by Treanton would key a 6-0 run that would extent the CHS lead out to eight, 41-33, with 2:26 left in the period.
Treanton finished with 12 points for Clarksville High.
A three by Cummings, with just under two minutes left in the third quarter would give the Lady Wildcats their largest lead of the game, nine points at 44-35, before the Lady Cubs closed out the quarter by scoring the final three points to cut the CHS lead down to six, 44-38, heading into the fourth quarter.
That little burst at the end of the third quarter carried over into the fourth period for the Lady Cubs, with Cheatham County scoring five of the first six points of the quarter to make it a two-point game, 45-43, with 5:53 left.
Two minutes later, Clarksville High would be up four points, 49-45, when Bearden picked up her fifth foul, but Goins stepped into the breach by knocking down a three and hitting one-of-two free throws to push the Lady Wildcats back out to an eight-point lead 53-45, with 3:04 left.
That would prove to be enough for the Lady Wildcats, as the Lady Cubs never got any closer than six points the rest of the way before CHS came away with the seven-point win.
In the first half, it would be Cummings that would keep the Lady Wildcats in the game early-on, as she scored eight of her game's 12 points before intermission when Cheatham County had gone up by as many as five points before taking a 28-27 lead into intermission over CHS.
Clarksville High will conclude play in the Rebel Christmas Tournament on December 29th, when they face the tournament host Stewart County High School Lady Rebels at 6:00pm.
Box Score
Clarksville High 59, Cheatham County 52
| | | | | | |
| --- | --- | --- | --- | --- | --- |
| | 1 | 2 | 3 | 4 | Final |
| Cheatham County Lady Cubs | 15 | 13 | 10 | 14 | 52 |
| Clarksville High Lady Wildcats | 13 | 14 | 17 | 15 | 59 |
Cheatham County: Savannah Worlund 19, Daijjia Burke 4, Josie Bumpus 12, Torie Walker 10, Jessica Armstrong 2, Tiffany Smith 5. Team totals 14 20-39 52.
Clarksville High: Ellie Treanton 12, JK Cummings 12, Summer Morales-Torres 2, DeeDee Carter 2, Hannah Goins 16, Lainey Persinger 2, Ta'Tayana Outlaw 5, Haley Bearden 8. Team totals 21 11-27 59.
3-point field goals: Cheatham County 4 (Walker 2, Bumpus 1, Worlund 1), Clarksville High 6 (Cummings 3, Goins 2, Treanton 1).
Records: Cheatham County 7-5, Clarksville High 7-8.