Nashville, TN – The National Weather Service (NWS) reports an arctic cold front will move through the Clarksville – Montgomery County area as well as the Mid State late Tuesday night into Wednesday bringing an extended period of subfreezing temperatures and the coldest weather since January 2014.
Gusty northwest winds will be just below advisory criteria on Wednesday. As the front pushes through Wednesday morning, winds of 10 to 20 mph will increase to 15 to 25 mph with a few gusts of 30 to 35 mph possible by noon.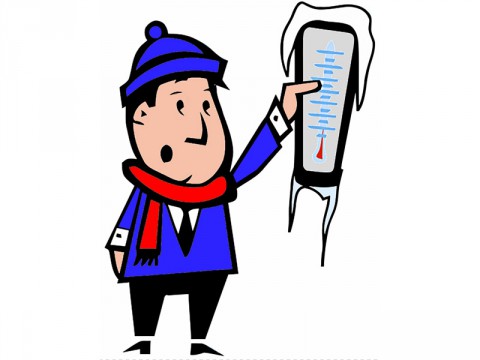 During this time temperatures will be near 20 degrees in the northern portion of Middle Tennessee and in the lower to mid 20s in the south. Temperatures will continue to fall as we head into the afternoon hours while winds remain around 10 to 20 mph.
This will allow for wind chills to dive below zero during the afternoon and evening hours on Wednesday. Wind chills in the 0 to -5 degree range will be common across the area during this time.
Stay tuned to updated forecasts as expected temperatures could fall and prompt the issuance of a wind chill advisory.
Temperatures are not expected to rise above freezing until Friday afternoon for areas south of I-40 but temperatures may remain below freezing until Saturday or even Sunday for locations North of I-40.
All preparations should be completed soon for this upcoming long duration of subfreezing temperatures.
Ensure water pipes are properly protected from the cold and outdoor animals have adequate shelter. Make sure heat sources are working properly. Check that motor vehicles have proper levels of antifreeze and air pressure in tires.
If going outdoors wear layers of clothing to protect from the cold weather.
Counties Affected
Bedford County, Cannon County, Cheatham County, Clay County, Coffee County, Cumberland County, Davidson County, De Kalb County, Dickson County, Fentress County, Giles County, Grundy County, Hickman County, Houston County, Humphreys County, Jackson County, Lawrence County, Lewis County, Macon County, Marshall County, Maury County, Montgomery County, Overton County, Perry County, Pickett County, Putnam County, Robertson County, Rutherford County, Smith County, Stewart County, Sumner County, Trousdale County, Van Buren County, Warren County, Wayne County, White County, Williamson County, and Wilson County.