Group will recommend candidates to fill vacancies on trial and appellate courts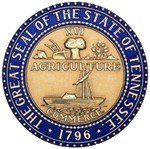 Nashville, TN – Tennessee Governor Bill Haslam today announced the 11 members of the Governor's Council for Judicial Appointments that will recommend candidates to the governor to fill vacancies for Tennessee trial and appellate courts.

The council was established by executive order following the November 4th passage of a constitutional amendment creating a method for selecting judges of the Supreme Court or any intermediate appellate court in Tennessee.

Members of the council include three each from the western, middle and eastern divisions of the state. Two members are at-large.

"This council will ensure that we continue to have a strong, independent and impartial judicial system in our state," Haslam said. "I am grateful to these members for their willingness to serve and their work to maintain a strong judiciary in Tennessee."
Members of the council representing the Western Division of the state are:
Lang Wiseman, Wiseman Bray PLLC, Memphis
George Brown, Resolute Systems, LLC, Memphis
Bradford Box, Rainey Kizer Reviere & Bell PLC, Jackson
Members representing the Middle Division are:
Michelle J. Long, Tennessee Department of Health, Nashville
Michael Spitzer, The Spitzer Firm, Hohenwald
William "Bill" Young, Office of Attorney General and Reporter, Nashville
Members representing the Eastern Division are:
Rosemarie Hill, Chambliss Bahner & Stophel P.C., Chattanooga
Cheryl G. Rice, Egerton, McAfee, Armistead & Davis, P.C., Knoxville
R. Culver Schmid, Baker Donelson, Knoxville
At-Large members are:
David A. Golden, Eastman Chemical Company, Kingsport
Randy Noel, Butler Snow LLP, Memphis
With the passage of the amendment to Article VI, Section 3 of the Tennessee Constitution, the method of selecting appellate judges for a full term or to fill a vacancy is by and at the discretion of the governor.  The governor's appellate court appointments must then be confirmed by the General Assembly, and thereafter elected in a retention election by the voters of the state.
After receiving notice that a trial or appellate court vacancy has occurred or is impending, and after a public hearing, the council will select three candidates who are most qualified to fill the vacancy and send those names to the governor as nominees for the appointment.  The governor will fill the vacancy by appointing a person from among the three nominated or require the council to submit a panel of three additional nominees.
Sections
News
Topics
Bill Haslam, Chattanooga TN, Hohenwald TN, Jackson TN, Kingsport TN, Knoxville TN, memphis tn, Nashville TN, Tennessee, Tennessee Constitution, Tennessee Department of Health, Tennessee Governor