Belmont Sports Information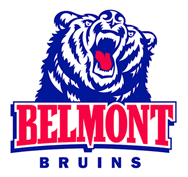 Nashville, TN – Belmont University men's basketball sophomore Evan Bradds (Jamestown, Ohio) sank two free throws with 26 seconds remaining and used a final defensive stop to outlast Eastern Kentucky, 53-52, in the semifinal round of the 2015 OVC Basketball Championship.
The game was a rematch of the 2014 OVC Championship, which saw the Colonels claim a 79-73 victory.
Three-pointers from sophomore Taylor Barnette (Lexington, Ky.) and junior Craig Bradshaw (Ridgetop, Tenn.) sparked Belmont to an early 6-2 lead.
But as was the case in last year's conference tournament meeting, Eastern Kentucky opened the game on a torrid pace. The Colonels made nine of their first 10 shots, and took a 20-13 lead on Deverin Muff's jumper with 12:27 left in the half.
After sophomore Caleb Chowbay (Mt. Juliet, Tenn.) helped the Bruins trim the margin to 20-18, Belmont went over six minutes without a field goal. Meanwhile, Eric Stutz capped his 6-for-6 start with a three-pointer to increase the Colonels' lead to 29-19 at the 8:02 mark.
Senior Reece Chamberlain (Goodlettsville, Tenn.) and Paul Jackson would exchange layins before the Bruins got a huge lift off the bench from senior Holden Mobley (Nashville, Tenn.).
Mobley buried a wing three-pointer and provided an offensive rebound put back on successive possessions late in the first half to help Belmont close within 33-26 at halftime.
Belmont shot 37 percent (10-for-27) from the field in the opening 20 minutes – including 5-for-13 from three-point distance. Eastern Kentucky shot 64 percent from the field, paced by 14 points from Stutz.
Despite the tough sledding offensively, Belmont continued to fight and gained positive momentum to start the second half. A short jumper from Barnette and a three-pointer from Bradshaw closed the margin to four, 35-31, with 18:14 remaining.
But each time Belmont appeared poised for a sustained run, Eastern Kentucky would provide an answer. Five points from Corey Walden bumped the Colonel edge back to 40-33 with 15:27 left.
Belmont head coach Rick Byrd rode the toughness of Mobley and junior Jeff Laidig (Mishawake, Ind.) in the second half, and their play yielded dividends.
Belmont worked into the bonus with 11:24 left in regulation, and closed to within 44-41 on two makes from freshman Austin Luke (Rowlett, Texas).
A three-pointer from Barnette and a driving layin from Chamberlain tied the score at 46 with 9:51 to go.
The Bruins continued to clamp down defensively, but several tantalizing opportunities to seize the lead went by the boards – either from the free throw line, three-point line, or offensive rebound put backs.
Both teams endured a lengthy field goal drought before Chamberlain again tied the score at 48 at the 6:42 mark.
Following two Stutz free throws, Eastern Kentucky forced Belmont into a scrambled offensive possession. But late in the shot clock, Chamberlain fought through a double team and found Barnette in the corner for a clutch three-pointer and a 51-50 lead with 3:42 remaining – the Bruins' first lead since 9-8.
Timmy Knipp scored inside to put Eastern Kentucky back ahead 52-51 with 2:25 left.
From there, Barnette, Egekeze and Bradshaw would each miss promising looks, giving Eastern Kentucky a chance to push out the lead.
But Belmont continued to cobble together defensive stops and rebounds to give itself chances.
With 27 seconds left, Bradshaw rimmed out a three-point attempt, but Bradds would be fouled while securing the offensive rebound.
He calmly sank both free throws to give Belmont a 53-52 lead with 25 seconds to play.
After the Bruins called timeout to set their defensive strategy, Eastern Kentucky worked into the front court and called timeout with 13 seconds left. When play resumed, the Colonels began their offensive set but didn't like the look and called their final timeout with under six seconds remaining.
From there, Walden took the inbounds pass, drove left, but missed a floating shot with two seconds left on strong defense from Bradshaw. Freshman Amanze Egekeze (Lake in the Hills, Ill.) secured the rebound and the horn sounded to end the game.
Officials huddled momentarily to clarify if an Eastern Kentucky loose ball foul had been called with under one second remaining, but it was deemed to have come after the final horn.
All told, Belmont shot 35 percent (19-for-55) from the field – including 8-for-28 from three-point distance. Belmont outrebounded Eastern Kentucky, 37-26, and forced 13 Colonel turnovers.
Barnette led three Bruins in double figures with 14 points. Bradshaw had 12, while Chamberlain added 10 points, seven rebounds, and eight assists.
Stutz led Eastern Kentucky (19-11) with 18 points.
Belmont (21-10) will play Murray State Saturday night in the OVC Championship game.  Tip-off is set for 6:00pm CT from Nashville Municipal Auditorium. The game will be broadcast on ESPN2 and the WatchESPN app. The game will also be carried nationally on Westwood One Radio.
The live play-by-play of Voice of the Bruins Kevin Ingram can be heard on the Bruin Sports Network and 104.5 The Zone. In-game updates will be available on Twitter @BelmontMBB.
Notes
Belmont held Eastern Kentucky to five second half field goals, two field goals in the final 15:26 and one field goal in the final 10:49 … After his remarkable start, the Bruins held Stutz without a field goal for the final 32 minutes of regulation … Eastern Kentucky entered play leading the nation in turnover margin (+7.6), but the Bruins were +1 in that category on the game … Belmont won despite a season-low field goal percentage (.345) … Egekeze tied his career-high of eight rebounds, which he also had vs. Eastern Kentucky earlier this season … The game marked the fifth time this season in OVC play that Belmont rallied from a double figure deficit to win.