Belmont Sports Information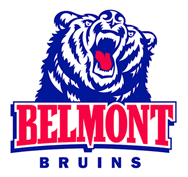 Charolotte, NC – Once again taking its customary seat at the March Madness table, Belmont University men's basketball nearly orchestrated one of the most memorable outcomes in NCAA Tournament history, taking two-time defending Atlantic Coast Conference champion Virginia to the limit before dropping a 79-67 decision Friday at Time Warner Cable Arena.
The Bruins, making their seventh NCAA Tournament appearance in 10 years, entered the field on the heels of dramatic, last-second victories over Eastern Kentucky and No. 25 Murray State in the OVC Tournament.
Sophomore Taylor Barnette (Lexington, Ky.), whose three-pointer propelled Belmont into the bracket, faced a familiar foe in the second-seeded Cavaliers. Barnette spent his freshman season in Charlottesville playing under head coach Tony Bennett.
Three-pointers would surely be part of the Belmont equation, with the Bruins sinking 75 over their last six games. Belmont entered play fourth nationally in three-point field goals per game (10.0).
As for Virginia, ranked second nationally behind Kentucky for large portions of the season, it welcomed back swingman Justin Anderson, who had missed eight games late in the second due to a fractured finger and appendectomy.
Belmont, one of the nation's top scoring teams annually, faced a stern test in the Cavaliers' vaunted defense. Virginia entered play leading the nation in scoring defense (50.8 ppg), the third-lowest average of the shot clock era (since 1986). Furthermore, Virginia held Harvard to one made field goal in the first half earlier this season and had outrebounded 11 of 12 non-conference opponents by double figures.
With that as a backdrop, Belmont made another trip down Tobacco Road, just 16 months separated from its unforgettable win at six-time National Champion North Carolina.
The Bruins got off to a fast start. Consecutive layins from sophomore Evan Bradds (Jamestown, Ohio) and a three-pointer from Barnette gave Belmont a 7-3 lead less than two minutes into the game.
After baskets from Darion Atkins and Malcolm Brogdon, five points from junior Craig Bradshaw (Ridgetop, Tenn.) and a conventional three-point play from freshman Amanze Egekeze (Lake in the Hills, Ill.) pushed Belmont to a 15-10 lead at 14:56.
When Nick Smith (Bentonville, Ark.) tacked on a three-pointer, the Bruin lead grew to six, 18-12, less than six minutes in the game.
The boisterous, and largely Belmont partisan crowd was loving every minute of it.
In just six minutes, Belmont had eclipsed the first half total of seven Virginia opponents – including five ACC programs.
It was a superb start and something to build from. But after Smith slipped inside for a layin at the 12:46 mark, the Cavaliers tightened its defense grip and held Belmont scoreless for the next 5:10.
Anthony Gill capped a 13-0 Virginia run with one free throw to give the Cavaliers a 30-20 advantage.
But Belmont simply went back to work, drawing up a trademark backdoor play for Barnette to stem the tide.
Brogdon continued his hot hand, but the Bruins closed the half well.
Five more points from Bradshaw and a depp three-pointer from senior Reece Chamberlain (Goodlettsville, Tenn.) cut the margin to eight, 40-32, with 40 seconds left in the half.
Smith proceeded to block a Brogdon shot attempt with eight seconds to go, and he leaked down court for a possible score. But Anderson swooped in to contest Smith's layin attempt at the horn, and the margin remained at eight.
After its 6-for-9 start, Belmont shot 45 percent (13-for-29) from the field – including 5-for-12 from three-point distance.
Bradshaw led Belmont with 10 first half points.
Egekeze once again provided a nice lift to open the second half. A slam and a conventional three-point play got the Bruins within seven, 44-37, with 17:49 remaining.
But a three-pointer from London Perrantes, a layin from Justin Anderson, and two Gill free throws extended the Virginia lead to 14, 51-37, with 15:22 left.
The Bruins were working for quality looks offensively, but shots rimmed off.
In need of an offensive spark, freshman Mack Mercer (Plymouth, Ind.) answered the call. Building on positive momentum from the first half, Mercer delivered consecutive interior baskets over Virginia 7-foot center Mike Tobey to get Belmont within 51-41 with 13:59 to go.
The huge Belmont run continued, as stingy defensive stops triggered offense. Bradshaw pumped home an electrifying slam and a deep three-pointer to trim the margin to five, 51-46, with 12:23 to go, prompting a Virginia timeout.
The near capacity crowd rose as one, loudly voicing its support for the champions from Nashville Tennessee.
Rotating Chamberlain onto Brogdon was a nice adjustment by the Belmont coaching staff, as the senior team captain held the First Team All-ACC guard without a basket in the second half.
After Bradds got Belmont within 51-48, Perrantes replied with a short jumper to end the Virginia drought.
The back-and-forth action continued, as Bradshaw and Atkins exchanged baskets.
After Brogdon gave the Cavalivers a 59-52 lead with 7:28 to go, Mercer once again lifted the Bruins up, scoring on a screen roll to get Belmont within five.
Then after one Anderson free throw and a Chamberlain steal, Bradshaw called "bank" on a transition three-pointer that astounded the crowd and television audience.
The play only amplified the jazzed atmosphere – and with Bradshaw rolling – Belmont's confidence grew with each passing moment.
Gill provided two more free throws before Bradshaw's fifth three-pointer of the contest got Belmont within 62-60 with 4:37 left.
Bradshaw was stealing the show and shining brightly on college basketball's biggest stage; cementing his place as one of the top perimeter players in the country.
The Bruins had stood toe-to-toe with another national power, and were on the verge of breaking down the door. An opportunity down the stretch against a power-conference champion and No. 2 seed is all Belmont wanted, and it was there.
Following a strong possession of defense, Perrantes made a contested 15-footer late in the shot clock to push the margin back to four, 64-60, with 3:59 remaining.
Barnette missed a promising three-point look with three minutes left before Gill added two more free throws to push the score to 66-60.
With the entire Virginia defense squarely focused on Bradshaw, Belmont was unable to match Cavalier scores late.
A timely bounce feed from Perrantes set up Gill for a conventional three-point play and a 69-60 lead with 1:53 remaining.
The Bruins played right to the very end, but Virginia made 18-of-21 free throws in the second half to secure the win.
All told, Belmont shot 47 percent (27-for-57) from the field – including 8-for-25 from three-point distance. The Bruins held their own on the backboards, giving Virginia its best rebounding battle of all non-ACC opponents.
Bradshaw led the way with 25 points on 10-for-19 shooting, and 5-for-9 from behind the arc. He added a game-high rebounds in one of the great performances in a Bruin uniform.
Bradds had 10 points and six rebounds, while Egekeze added eight.
Brogdon led Virginia (30-3) with 22 points.
Belmont finishes another fantastic season with a record of 22-11.
Notes
Chamberlain, Mobley, and Turner finish their outstanding Bruin careers with 101 victories, six conference championships (three regular season, three tournament), three NCAA Tournament appearances and one Postseason NIT Elite 8 appearance … Belmont outscored Virginia, 36-32, in the paint … Belmont outscored Virginia, 10-8, in fast break points … Bradshaw's called "bank" was trending on Twitter … Only Duke, North Carolina and Davidson shot a better field goal percentage than Belmont (.474) against Virginia this season … Belmont was vying to become the eighth No. 15 seed in NCAA Tournament history to defeat a No. 2 seed … Belmont nearly pulled the trick in 2008 as well, dropping a 71-70 decision to No. 2 Duke.