Austin Peay Sports Information

Clarksville, TN – Austin Peay State University men's tennis team extended its winning streak to seven matches and remains undefeated in Ohio Valley Conference play as the Govs defeated Belmont 4-1, Friday, at the Austin Peay Indoor Tennis Center.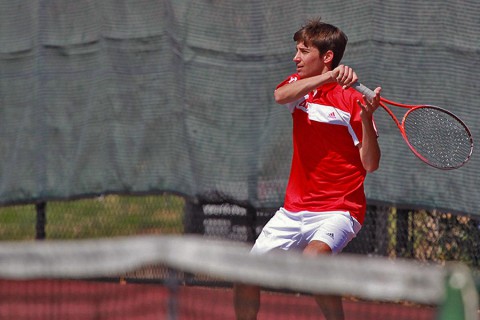 As a result of inclement weather and time constraints moving the match indoors, singles matches were played first and doubles matches were bypassed because Austin Peay clinched the match victory in singles action.
With the win, Austin Peay improves to 11-4 overall, with a 6-0 mark in the OVC. Belmont falls to 8-9 overall, with a 3-4 OVC record.
In singles play, the Govs were led by senior Iago Seffrin, who cruised to a 6-2, 6-4 victory against Robin Demasse at the No. 4 position and sophomore Aaron Jumonville, who earned a 6-1, 3-6, 7-5 win over Cedric Dujacquier at No. 3.
In other singles matches, senior Aleksas Tverijonas claimed a 6-2, 3-6, 6-2 victory over reigning OVC Player of the Year Mauricio Antun at the No. 2 slot and the Govs were able to clinch the match when sophomore Manuel Montenegro earned a 6-3, 6-4 victory against Bruno Russo at No. 5.
The Govs return to the court and continue OVC play with a 9:00am, Saturday, road contest against Tennessee State.
Box Score
Singles
No. 1 – Marko Lovrinovic (BEL) def. Dimitar Ristovski (APSU) 5-7, 6-0, 6-4
No. 2 – Aleksas Tverijonas (APSU) def. Mauricio Antun (BEL) 6-2, 3-6, 6-2
No. 3 – Aaron Jumonville (APSU) def. Cedric Dujacquier (BEL) 6-1, 3-6, 7-5
No. 4 – Iago Seffrin (APSU) def. Robin Demasse (BEL) 6-2, 6-4
No. 5 – Manuel Montenegro (APSU) vs. Bruno Russo (BEL) 6-3, 6-4
No. 6. – Oleg Drobysh (APSU) vs. Geoff Tulloch (BEL) 5-7, 4-1 (unfinished)
Order of finish: Singles (4, 3, 1, 2, 5*);