APSU Sports Information

Clarksville, TN – It was the defense that shone the brightest for Austin Peay State University football in Saturday's annual Red-and-White Spring Game, prevailing based on the assigned scoring system 25-17 at Governors Stadium.
The Governor defense forced one three-and-out, limited the offense to just one 'scoring' drive – an
Evan Toby
field goal on the game's first drive – and got an interception from defensive back
David Wall
in the course of the eight-drive affair.
It also harassed Austin Peay quarterbacks into a combined 14-for-25, 80-yard day through the air.
"They certainly ran to the ball well today and had good contact on some plays," said head coach Kirby Cannon. "I didn't see a bunch of missed tackles and slop. As a defensive coach, that's what I want. I want to see great effort and see us be physical when we need to be. I thought they had a good recognition of run or pass, which with young kids, sometimes they're playing run against pass or pass against run. I think we transitioned based on the play pretty well today."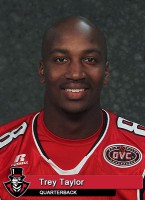 Things started well for the Governor offense. On the opening drive Trey Taylor, who got the nod as No. 1 quarterback for Austin Peay in the Spring Game, connected with Rashaan Coleman for 17 yards and James Coleman for seven to move the chains early in the drive. Kendall Morris tacked on 20 yards on four carries in the series.
When the drive stalled, Toby trotted on the field and drilled a 34-yard field goal to give Austin Peay's offense a 5-2 lead (see attached scoring rules).
That would be the day's most consistent showing by the offense which, despite eight more first downs on the day, would be unable to find the end zone or split the uprights for the game's remainder.
Taylor, who got the majority of passing opportunities, finished the day 7-for-11 for 52 yards but saw one pass tipped into the hands of David Wall and returned for 22 yards on his final drive.
"I thought Trey showed that he had played a lot, and I think if we played today, he would be our starting quarterback," Cannon said. "I think he just brings more things to us mentally more than anything else. The kids just seem to hear his voice better than the other quarterbacks, but I don't know if it's a pull away. I would just call it establishing himself as a front runner going into the fall."
Corey Teague was credited with the lone sack on the day, while John Houston Jr. added a quarterback hurry. The Govs front line was able to get consistent pressure, which allowed the defensive backs, including Wall (four total tackles), Roderick Owens (team-high six tackles), Devon Jones (five tackles), Kyran Moore (four tackles and a pass break-up) and Coty Eanes (two passes broken up, both on the final drive inside the 15 yard line) to fly around the field wreaking havoc.
The energy showcased by the defense, on display each afternoon at practice during the spring, was on display yet again on Saturday.
"(With defense) you work on the fundamentals of playing with great effort, and part of great effort just naturally comes along with great emotion," Cannon said. "Be mad about plays, but be focused for the next one. Be happy about a play, but be focused on the next one. It's contagious. If a guy makes a play on defense, somebody else wants to make that same play."
After Wall's interception, Austin Peay's final offensive drive started on the other side of midfield. Mickey Macius, who finished the day 3-for-8 for 18 yards, marched the Govs into the red zone but, needing a touchdown to tie, Austin Peay had to go for it on fourth-and-eight from the 13 and saw a last-gasp attempt from Macius fall incomplete.
Video –
David Wall
David Wall picked off a pass in Austin Peay's annual Spring Game, leading the defense to a 25-17 win.