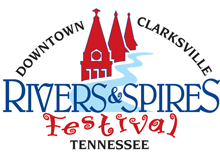 Clarksville, TN – The 13th annual Rivers and Spires Festival concluded Saturday, April 18th with beautiful weather, great music, wonderful food and entertainment for everyone.
Speaking of food, there were freshly dipped corn dogs, kettle corn, funnel cakes, hotdogs, brats, gyros along with plenty of iced tea and lemonade. The gyros was particularly good. Everything was reasonably priced.
At the sports zone, there were sporting activities like a football toss, baseball pitch were your fastball was timed, basketball toss, mechanical bull, etc. Plenty of interactive athletic games for all ages could be found. Most of the area was manned with APSU student athletes.
This year's theme for the family fun zone was "Pirates!" There were over 60 events for the entire family. Some of the attractions included inflatables, face painting, and roaming entertainers. At one spot, you could use a spray bottom to move your float down a water race track to win a prize.
Back again this year was the annual Children's parade. The parade's theme was Pirates as well. Clarksville Mayor Kim McMillan and Montgomery County Mayor Jim Durrett led off the parade along with Miss River Queen Tanna Norman and Miss River Teen Jasmine Gardner.
There were plenty of little pirates, cardboard pirate boats and a mermaid. Even Scooby Doo had an eye patch and a pirate's hat on.
As for entertainment, there were five stages that featured all genres of music. One of the groups, Driven, is from Clarksville Tennessee. Drive is composed of three young men, Daryl Lewis, Joshua Lewis, Mike Rich that formed the group when they were in school at Fort Campbell.
Their vocals were a silky smooth harmony that combined with their high energy stage performance to keep the crowd entertained. Their music is a mixture of acoustic, pop, and rhythm and blues.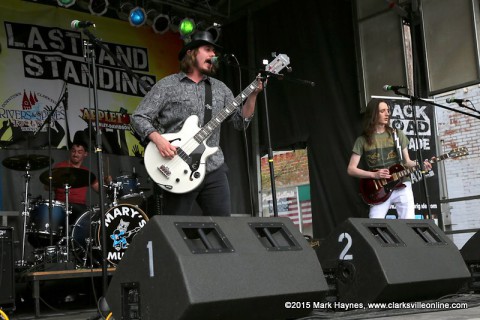 "We had a great time here at Rivers and Spires. We enjoyed the crowd," said Daryl Lewis. "It's always a good time here at Rivers and Spires."
Back again this year was another Clarksville group, the rock band Backroad Brigade. The band members are Dalton Akins, Matt White and Seth Ely.
Back and better than ever. Once these guys hit the stage, their stage presence, chemistry and sound made for electrifying entertainment. They put on one heck of a rock and roll show. You could tell they really enjoyed playing together.
"I really liked the band. Their really awesome. Old rock, I love it," stated Rhonda Mitchell. "For young guys they really jam. He's really awesome on guitar."
"I thought the band was fantastic. It was really amazing," said Philip Mitchell. "It was a great show."
"We love being here at Rivers and Spires. It's people that love music. It's wonderful," said Dalton Atkins. "We had a lot of fun. That's the main thing, having a good time."
They have a CD out called Backroad Brigade. You can message them on facebook and they will get you one. You can find them on facebook at www.facebook.com/backroadbrigade .
This was one of the best Rivers and Spires Festivals to date. Our hat goes off to those that make this event possible. There were over 1,000 volunteers for this year's event. The volunteers are what make this event so successful.
If you missed it this year, mark it down as a must do for next year. To keep up with all things Rivers and Spires, visit their website at www.riversandspires.com
Photo Gallery