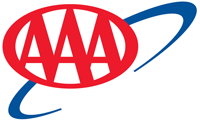 Tampa, FL – For the first time in more than 100 days, the year-over-year difference in the national average price for regular unleaded gasoline fell below $1.00 per gallon this past Tuesday (-99 cents).
Today's price of $2.70 per gallon represents a new high for 2015. The national average has moved higher by 4 cents per gallon since last Sunday.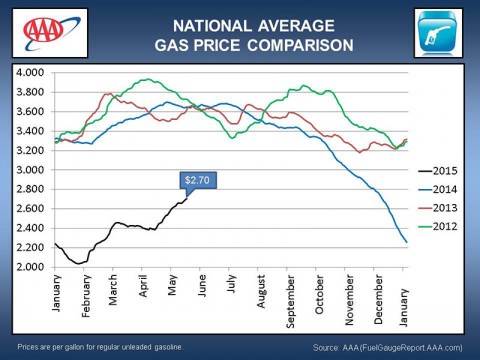 "Thanks to fluctuating oil prices, gasoline keeps inching up at a time of year when prices typically begin their fall," said Mark Jenkins, spokesman, AAA – The Auto Club Group. "Supply disruptions on the U.S. West Coast and increases in the price of crude oil are likely to keep upward pressure on gas prices in the near-term. Despite consecutive weekly increases at the pump, consumers are still expected to pay some of the lowest prices for the Memorial Day Holiday in nearly five years."

Crude oil rose above $60.00 a barrel again last week, but finished the week at $59.69 on the NYMEX. Factors influencing the market last week were concerns of a global glut in crude supplies and indications that oil producers will continue to boost output. The EIA reported last week that U.S. crude stockpiles fell for a second consecutive week, but domestic oil production edged higher.

Following consecutive months of declining rig counts, analysts believe the recent rise in prices above $60.00 a barrel could spur some shale producers to restart output. The price of oil is still nearly $50.00 a barrel cheaper than the peak price in the spring of 2014.

The national average price for gasoline ($2.70) is the highest since December 5th, 2014. The Florida average ($2.62) is the highest since December 13th, 2014. The Georgia average ($2.60) is the highest price since December 8th, 2014. The average price in Tennessee ($2.46) is the highest since December 10th, 2014.
Current and Past Price Averages
Regular Unleaded Gasoline
Sunday
Saturday
Week Ago
Month Ago
Year Ago
National
2.702
2.699
2.658
2.429
3.647
Florida
2.624
2.623
2.627
2.476
3.638
Georgia
2.603
2.594
2.550
2.306
3.633
Tennessee
2.459
2.453
2.412
2.206
3.453
Click here to view current gasoline price averages
Sections
News
Topics
AAA, Crude Oil, EIA, Florida, Gas Prices, Georgia, Mark Jenkins, Memorial Day, NYMEX, Oil Prices, Tampa FL, Tennessee, The Auto Club Group