Clarksville, TN – The Clarksville Police Department in cooperation with the Tennessee Department of Environment and Conservation Office of Sustainable Practices has established three permanent locations for Pill Drop Boxes as part of the Pharmaceutical Take Back Program.
The program is designed to establish permanent collection points to receive unwanted, unused or expired medications. The drop hours are Monday- Friday 8:00am-4:00pm.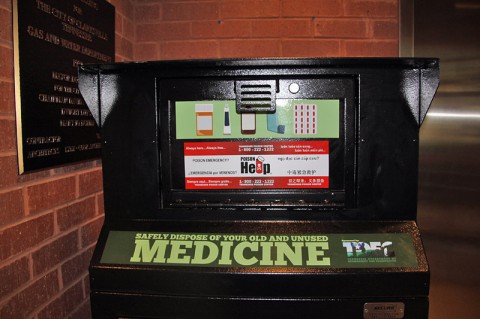 These are for citizens to dispose of personal items and are not intended for businesses i.e. hospitals, clinics,  pharmacies, etc. who are required to dispose of their medications in a manner consistent with DEA guidelines.
The pill drop boxes have been in place since December of 2013 and have been a great success.
The three locations for the Clarksville Police Departments pill drop boxes are as follows:
Lobby of District 1 Criminal Investigations 1885A Fort Campbell Boulevard ( next to Baskin Robins)
Lobby of District 3 Criminal Investigations 1584 Vista Lane.
Lobby of Headquarters 135 Commerce Street.
The Following items will be accepted:
Prescription Medications
All over the counter medications
Pet medications
Medicated Ointments, lotions or drops
Liquid medications in leak proof containers
Pills in plastic containers, baggies, or foil
Unacceptable Items:
Illegal Drugs or Narcotics
Needles / Sharps or Syringes with Needles
Blood sugar equipment
Thermometers
IV Bags
Bloody or Infectious Waste
Personal Care Products  i.e. Shampoo, Lotions etc.