Clarksville, TN – If anyone knows the importance of a quality and balanced coaching staff, Austin Peay State University's "Dean' of Ohio Valley Conference men's basketball coach Dave Loos does.
But in a space of a couple of years he saw his long-time assistant coaches (Bret Campbell, Corey Gipson and Charles 'Bubba' Wells) leave the program for varied reasons and having those positions being replaced with young and upcoming coaches – until he added Jay Bowen to his staff for the second time.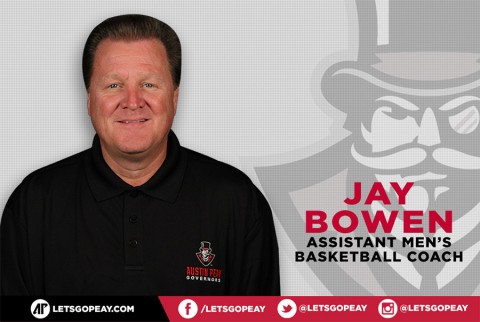 Bowen brings over 30-years experience in coaching basketball, both as a head and or assistant coach; from the high school to Division I level to join Kevin Hogan and Julian Terrell – who have five and zero years experience on the D-I level between them.
But it's not only the experience that makes Bowen such a quality addition to the staff; it's his proven ability as a recruiter.
This will also be the third time Loos and Bowen have worked together, with Bowen being Loos' assistant at Christian Brothers University from 1984-87 and a first tour with the Governors back in 2001-02.
Those three times coaching together are just the beginning of Bowen's coaching career, with stops at Armstrong State, Mississippi, East Central Community College – his first head coaching position – and Georgia State before heading into the prep ranks as head coach at Jackson Academy, in Jackson MS, and winning a state title and a Mississippi Coach of the Year award.
He also added stops at Memphis, and East Texas Baptist as a women's basketball coach, and Tennessee Martin, Chattanooga and Delta State men's basketball programs.
Along with helping balance the experience factor for the coaching staff, Bowen's organizational skills, player development and scouting will be a factor with Hogan having experience as a perimeter shooter at Rollins College; while Terrell was a post player at Vanderbilt.
So with Bowen back in the fold, along with two young and upcoming younger coaches on Loos' staff the hopes are they can end the current run of four losing seasons, including the last three where the team failed to make the OVC postseason tournament.