Clarksville, TN – The Governor's Highway Safety Office (GHSO), the Tennessee Association of Chiefs of Police (TACP), and the Tennessee Sheriffs' Association (TSA) have joined forces to strengthen and support traffic enforcement nationwide by providing the Law Enforcement Challenge program, an innovative program designed to stimulate traffic law enforcement activities.

The program targets three major traffic safety priorities: occupant protection, impaired driving, and speeding.

The Law Enforcement Challenge provides law enforcement agencies with an opportunity to make a significant difference in the communities they serve.

The program format allows for agencies to learn from one another and establish goals in traffic safety enforcement and education. Ultimately, the Law Enforcement Challenge is about saving lives and reducing injuries.

After a lengthy application process, the Clarksville Police Department placed 1st in the Tennessee Law Enforcement Challenge for Agencies with Between 201-500 Sworn Officers two years in a row. The CPD placed third place Nationally last year.

The Clarksville Police Department is dedicated and committed to continuing its efforts in saving lives and reducing injuries through traffic safety enforcement and by educating its citizens.
About the Law Enforcement Challenge
The Law Enforcement Challenge is an annual competition designed to recognize and reward the best overall traffic safety programs across the state. Similar sizes and types of agencies are judged on their local efforts to enforce laws and educate the public about impaired driving, speeding, and occupant protection.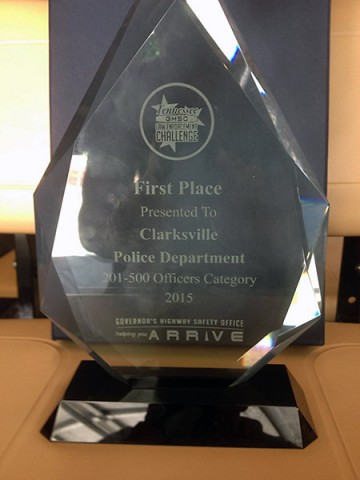 The winning safety programs combine officer training, public information, and enforcement to reduce crashes and injuries within their jurisdictions. To receive national recognition, agencies participated in the International Association of Chiefs of Police Law Enforcement Challenge.

"This goes far beyond which agency issued the most citations," said Tennessee Department of Transportation Commissioner John Schroer. "These departments have identified specific traffic safety issues in their community, addressed those issues in innovative ways, and are now being thanked and awarded for their success."

Qualifying agencies were eligible to win a fully equipped police vehicle. This year's vehicle winner was the Madison County Sheriff's Office. Agencies that participated in the S.A.F.E. (Seatbelts Are For Everyone) campaign were eligible for two additional fully equipped police vehicles.

The winners of the S.A.F.E vehicles were the Hickman County Sheriff's Office and the Sewanee Police Department.

"Over the last decade, we have seen the number of traffic fatalities in Tennessee reduce by over a third," said Governor's Highway Safety Office Director Kendell Poole. "It is an honor to recognize the agencies that work on the front lines of traffic safety. We appreciate their tireless efforts to assure that motorists arrive at their destinations safely."
2015 Governor's Highway Safety Office Law Enforcement Challenge Award Winners
Sections
News
Topics
Clarksville Police, Clarksville Police Department, Clarksville TN, CPD, GHSO, Governor's Highway Safety Office, Impaired Driving, John Schroer, Kendell Poole, Law Enforcement Challenge, S.A.F.E., Seatbelts Are For Everyone, speeding, TACP, Tenenssee, Tennessee Association of Chiefs of Police, Tennessee Department of Transportation, Tennessee Law Enforcement Challenge, Tennessee Sheriff's Association, Traffic Safety