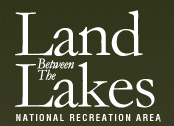 Land Between the Lakes, KY/TN – Trick or treat on the "wild side" at the 21st Annual Howl-O-Ween program, Saturday, October 24th, from 1:00pm-4:30pm at Woodlands Nature Station in Land Between The Lakes National Recreation Area. Join Nature Station guides on a ¼ mile woodland walk during this non-scary, daytime event all about nocturnal animals.
Tickets go on sale at 12:00pm and cost $5.00 per person ages 5 and up, free for ages 4 and under. Nature Station admission included with purchase. First tour leaves at 1:00pm; last tour leaves at 4:00pm.
"Howl-O-Ween is fun for kids of all ages. This event offers a great way for families to spend time together while enjoying a lighthearted outdoor experience," says Shannon Brockway, Woodlands Nature Station Naturalist.
Costumed animal characters, including Otis the bat and Lucy the lightning bug, will make rare, daytime appearances to explain why some critters love nighttime. Kids can collect goodies along the way. Costumes are welcome and encouraged.
Howl-O-Ween offers children a great opportunity for outdoor fun and entertainment while learning about some of the wildlife at Land Between The Lakes. Visitors can partake in crafts, face painting, and see live animals.
Fourth grade students can go to https://everykidinapark.gov/, get their free Every Kid in a Park pass, and get their family in for free. For more information call 270.924.2299. Visitors are encouraged to dress for the weather and bring an umbrella in case of rain.
About Land Between the Lakes
Land Between The Lakes National Recreation Area manages more than 170,000 acres in western Kentucky and Tennessee as part of the U.S. Forest Service and the Department of Agriculture's public lands program. Land Between The Lakes offers outdoor recreation, lake access, land management, and environmental education to over 1.4 million visitors annually. The Friends of Land Between The Lakes works in partnership with the Forest Service providing program services, funds development, and volunteer support.
To find more information about Land Between The Lakes, log on to the official website at www.landbetweenthelakes.us or call toll-free at 1.800.LBL.7077 or local at 270.924.2000. For more information on the Friends of Land Between The Lakes, log on to www.friendsoflbl.org.
To subscribe to the official electronic newsletter, send an email to LBLinfo@fs.fed.us. Land Between The Lakes official Twitter accounts include @LBLScreechOwl, @LBLNature, @LBLHomeplace, and @LandBtwnLakes, and Pinterest www.pinterest.com/lblnra.
USDA is an equal opportunity provider, employer, and lender.