APSU Sports Information

Nashville, TN – On a day when the weather conspired to limit the passing game, Austin Peay State University and Tennessee State engaged in some trench warfare in the mud and the muck at Hale Stadium, Saturday. Despite the best defensive effort by the Governors in 2015, Austin Peay was vanquished by the hosts, 20-6.
For the Governors (0-9, 0-6 OVC), the loss represented their most recent best chance to snap the nation's longest road losing streak (36 games) and earn their season's first win. Tennessee State (4-4, 1-4 OVC) picks up its first conference victory in 2015.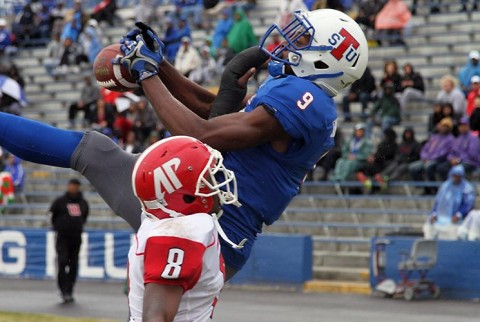 For perhaps the first time this season, Austin Peay's offense roared out of the gate, taking the opening kick and marching down the field on an 11-play, 66-yard drive that ended in a 35-yard field goal by freshman
Logan Birchfield
. Birchfield's kick marked the first time Austin Peay has scored on its opening drive since November 16th, 2013 against Southeast Missouri.
After the team's traded possessions, Austin Peay suffered a blocked punt—its sixth in nine games—to give Tennessee State excellent field position at the Governors 26. But the Governors defense held, aided by an illegal formation call on the Tigers, ultimately allowing a 47-yard field goal by Lane Clark to even the score.
The Governors defense picked up where it left off last week against top-ranked Jacksonville State, holding the Tigers to just 13 first-quarter yards.
The second quarter proved a different story for the Tiger offense, which marched 65 yards on eight plays for a touchdown—a three-yard toss from O'Shay Ackerman-Carter to Joshawn Bowens—to give the Tigers their first lead. Although it's been the air attack that had been the Tigers bread-and-butter in 2015, Tennessee State's rushing game was its primary focus in the first half, accumulating 80 of Tennessee State's 105 first-half yards.
Clark would nail another field goal to put Tennessee State up 13-3, but Austin Peay would mount a late second-quarter drive all the way down to the Tiger goal line, thanks largely to a 22-yard run by Kendall Morris and two Trey Taylor completions of 13 yards (to James Coleman) and 12 yards (to Jared Beard). But Taylor's first sneak attempt was foiled and on his second try, Austin Peay was whistled for illegal procedure. No longer on the goal line at that point, head coach Kirby Cannon elected to put points on the board, with Birchfield nailing a 25-yard field goal to send the game into halftime.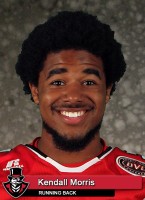 Morris finished with 76 rushing yards on  18 carries (4.2 ypc), a good sign for the freshman after being limited to six carries for 11 yards the previous two weeks.
As the rain picked up in the second half, the passing game for both teams became more limited, with Tennessee State throwing an interception to Roderick Owens on its second play from scrimmage in the third quarter. But neither side could get a sustained drive going in the third quarter, combining for 56 third-quarter yards.
Midway through the fourth quarter, an Austin Peay drive stalled near midfield and Toby pinned the Tigers at their own three-yard line—one of four punts Austin Peay downed inside the 20 on the day. But Tennessee State would then embark on a 15-play, 97-yard drive that ate up nearly nine minutes of clock and all but put the game out of reach.
The Tigers only needed to go to the air twice on the drive, with Ackerman-Carter finding Patrick Smith for gains of 10 and 16 yards on both occasions. Erick Evans provided seven carries and 55 yards on the drive, with his last carry covering 25 yards and ending in the end zone to give the Tigers a two-score lead with less than two minutes remaining.
Owens (six tackles, one interception) and senior Adam Noble (10 total tackles) led the defense, which held Tennessee State to 241 yards total offense—the first time APSU has held a Division I opponent under 300 yards total offense since October 22nd, 2011 against Southeast Missouri.
The defense also limited Ackerman-Carter's effectiveness through the air—the freshman finished with 76 yards passing, the first time Austin Peay has held an opponent under 100 yards passing since November 3rd, 2012 (Culver-Stockton, 31 yards).
"I think our two cornerbacks—Donovan Jackson and Roderick Owens—are playing very well. Rod Owens is one of the best defensive backs on our level. He's had a tremendous year and it's unfortunate that we're 0-9 and probably nobody knows about it or cares about it, but he's playing at a very high level. It was an incredible interception there to get our emotions up for the third quarter." – Head coach Kirby Cannon
The Difference
With Evans (13 carries, 83 yards) and Telvin Hooks (18 carries, 76 yards) carrying the bulk of the rushing load, Tennessee State was able to average 5.0 ypc on the day, after entering play at a 3.3 ypc clip. Despite Morris' solid day on the ground, the Govs could manage just a 3.4 ypc average on 36 team attempts.
Up Next for the APSU Governors
For the final time in 2015—and the final time in the career of Austin Peay's senior class—the Govs will suit up at home when they host Southeast Missouri, 4:00pm, November 7th, on Senior Day at Governors Stadium.
Box Score
Austin Peay (0-9 , 0-6) -VS- Tennessee State (4-4 , 1-4)
| Team | 1st | 2nd | 3rd | 4th | Total |
| --- | --- | --- | --- | --- | --- |
| Austin Peay | 3 | 3 | 0 | 0 | 6 |
| Tennessee State | 3 | 10 | 0 | 7 | 20 |
Scoring Summary
| | | | APSU | TSU |
| --- | --- | --- | --- | --- |
| 1st | 10:11 | APSU – BIRCHFIELD,Loga 35 yd field goal 11 plays, 66 yards, TOP 4:49 | 3 | 0 |
| 1st | 05:48 | TSU – CLARK, Lane 47 yd field goal 4 plays, -4 yards, TOP 1:37 | 3 | 3 |
| 2nd | 10:30 | TSU – BOWENS, Joshawn 3 yd pass from ACKERMAN-CARTER (CLARK, Lane kick ) 8 plays, 65 yards, TOP 3:45 | 3 | 10 |
| 2nd | 03:48 | TSU – CLARK, Lane 38 yd field goal 7 plays, 30 yards, TOP 2:22 | 3 | 13 |
| 2nd | 00:00 | APSU – BIRCHFIELD,Loga 22 yd field goal 10 plays, 57 yards, TOP 3:43 | 6 | 13 |
| 4th | 01:38 | TSU – EVANS, Erick 25 yd run (CLARK, Lane kick ), 15 plays, 97 yards, TOP 8:44 | 6 | 20 |
| | | | 6 | 20 |
Team Statistics
APSU
TSU
First Downs
Total
11
13
Rushing
5
7
Passing
6
4
Penalty
0
2
Rushing
Total (Net)
122
165
Attempts
36
33
Avg. Per Rush
3.4
5.0
Rushing TDs
0
1
Yds. Gained
125
168
Yds. Lost
3
3
Passing
Total (Net)
75
76
Comp.-Att.-Int.
10-

28-0

13-26-

1

Avg. / Att.
2.7
2.9
Avg. / Comp.
7.5
5.8
TDs
0
1
Total Offense
Yards
197
241
Plays
64
59
Avg. / Play
3.1
4.1
Fumbles – Lost
0-0
0-0
Penalties – Yds.
4-30
7-

45

Punting
Punts – Yds.
9-

307

7-252
Avg. / Punt
34.1

36.0

Inside 20

4

1
50+ Yds.
0
0
Touchbacks

1

0
Fair Catch
2

3

Kickoffs
Total – Yds.
2-107
5-

272

Avg. Yds. / Kickoff
53.5

54.4

Touchbacks
0

2

Returns
Punt: Total – Yds. – TDs
2-

4-0

2–2-0
Punt: Avg. / Return

2.0

-1.0
Kickoff: Total – Yds. – TDs

3-34-0

2-

46-0

Kickoff: Avg. / Return
11.3

23.0

INT: Total – Yds. – TDs

1-0-0

0-0-0
Fumble: Total – Yds. – TDs
0-0-0
0-0-0
Miscellaneous
Misc. Yards
0
0
Poss. Time
29:27

30:33

3rd. Down Conv.
3 of

16

3 of 13
4th. Down Conversions
0 of

2

0 of 0
Red-Zone: Scores – Chances
2-

2

1-1
Sacks: Total – Yds.
0-0
0-0
PAT: Total – Made
0-0

2-2

Field Goals: Total – Made
2-2
2-2