APSU Sports Information

Clarksville, TN – Austin Peay State University placed a school-record seven players in double figures as the Governors closed out 2015 with a 112-61 win against Westminster, Wednesday night, in non-conference men's basketball action in Dave Aaron Arena.

The victory allowed the Govs to enter the 2016 portion of their schedule with a 7-8 record.

APSU will open Ohio Valley Conference play, 7:00pm, Saturday, when it plays host to Eastern Kentucky.

It was the first time since November 18th, 2010 the Govs placed at least six players in twin figures. Chris Horton led the Govs with 18 points while fellow senior Khalil Davis added 17.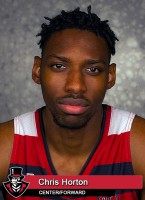 The Govs established an APSU Dunn Center record with 31 assists on the night, breaking the mark of 28 set against Eastern Kentucky, February 7th, 1977. Western Kentucky (January 19th, 1980) and Southeast Missouri (February 28th, 2013) also had 31 assists as opponents.
Westminster, meanwhile, slipped to 3-5 overall. This was the second of back-to-back games for the Blue Jays, a Division III program located in Fulton, MO. And they were no match for the Governors, who led 42-11 with 7:12 left in the opening half.
Eight Governors scored in the first half, led by freshman Jared Savage's 11 points—he had a trio of three pointers. Chris Horton scored 10 first-half points while dishing out five assists.
APSU shot 64.1 percent (25 of 39) in the first half and 59.2 percent (45 of 76) for the game. In the second half, the Govs starters played to the second media timeout, turning it over to substitutes. Redshirt freshman Chris Porter-Bunton, who scrapped his way for six first-half points, finished the contest with 14 points and 10 rebounds—his first career double-double—while also handing three assists.
Junior guard John Murry scored nine second-half points to finish with 13, the same total as Josh Robinson. Kenny Jones added 10 points to round out the double-digit scorers.
APSU out-rebounded the much-smaller Blue Jays, 51-30, and had just five turnovers after committing 18 Monday against Texas A&M-Corpus Christi.
Box Score
Westminster (3-5) 61, Austin Peay (7-8) 112
| | 1 | 2 | Total |
| --- | --- | --- | --- |
| Westminster (MO) | 24 | 37 | 61 |
| Austin Peay | 60 | 52 | 112 |
Westminster (MO) 61
Player
FGM
-FGA
3FGM
-3FGA
FTM
-FTA
OFF
-DEF
TOT
PF
TP
A
TO
BLK
STL
MIN
Romo Tabb
7-12
1-4
0-0
0-1
1
1
15
0
0
1
0
18
Zach Nelson
0-3
0-0
0-0
2-1
3
0
0
3
1
0
0
19
Tanner Gentges
0-5
0-2
0-0
2-2
4
2
0
0
0
0
0
17
Tanner Cochran
0-4
0-2
0-0
0-0
0
2
0
2
2
0
0
16
Matt Murphy
0-4
0-2
0-0
0-2
2
1
0
0
2
0
1
13
Kellen Brondel
3-7
0-0
2-2
1-2
3
2
8
0
0
0
0
15
Brandon Drum
3-5
1-1
0-0
1-0
1
2
7
1
3
0
0
14
Carter Wands
2-4
0-0
2-3
0-2
2
0
6
1
0
0
0
18
Daniel McElroy
2-5
2-4
0-0
0-0
0
1
6
0
0
0
0
5
Jimmy Villalobos
2-6
0-2
0-0
1-1
2
1
4
1
0
0
0
13
Nick Carlos
1-5
1-3
0-0
0-1
1
1
3
1
3
0
1
14
Aaron Jackson Jr.
1-1
1-1
0-0
0-2
2
1
3
1
0
0
1
12
Stu Hollands-worth
1-3
0-1
1-2
0-2
2
3
3
0
1
1
0
8
Javier Martin Ortega
1-1
1-1
0-0
0-2
2
1
3
0
1
1
0
5
Casey McCollum
1-2
1-2
0-0
0-0
0
0
3
0
0
1
0
5
Dominick Erby
0-0
0-0
0-0
2-0
2
2
0
3
1
0
0
8
TEAM
0-0
0-0
0-0
2-1
3
0
0
0
2
0
0
0
Totals
24-67
8-25
5-7
11-19
30
20
61
13
16
4
3
200
Austin Peay 112
Sections
Sports
Topics
APSU, APSU Athletics, APSU Basketball, APSU Dunn Center, APSU Men's Basketball, APSU Sports, Austin Peay State University, Blue Jays, Chris Horton, Chris Porter-Bunton, Clarksville TN, Eastern Kentucky, Fulton MO, Governors, Govs, Jared Savage, John Murry, Josh Robinson, Kenny Jones, Khalil Davis, Ohio Valley Conference, OVC, Southeast Missouri, Texas A&M-Corpus Christi, Western Kentucky, Westminster