Austin Peay Sports Information

Cape Girardeau, MO – Back and forth, possession after possession, Austin Peay State University women's basketball team battled Southeast Missouri, Saturday. Neither side ever led by more than six points in a game that seemed destined to go down to the wire.

And so it was that, when senior Tiasha Gray's 20-footer hit the rim and bounced away with less than a second remaining, APSU (7-15, 5-4 OVC) was simply out of chances in a 71-69 loss at the Show Me Center.

After righting the ship following a near-disastrous first-half shooting—the Governors hit five of their final 22 first-half shots after knocking down five of their first seven—Austin Peay looked to be on the brink of a breaking out after a Gray jumper capped an 8-0 run to give the Govs a five-point lead, their largest of the day, early in the second half.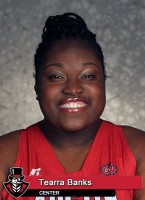 But the Redhawks countered with a 7-0 run of their own to keep the game close. The teams would spend much of the third quarter trading buckets, with Austin Peay taking a lead into the fourth period after a Tearra Banks jumper.
In the fourth, Southeast Missouri would stretch its lead to four after an Imani Johnson three and a free-throw from Deja Johnson. But after freshman Keisha Gregory banked in a three at the 7:19 mark, the score would never again be separated by more than a single possession.
Although it was Gray whose last-second attempt drew iron rather than nylon, the senior guard from Clarksville was her usual indispensable self against the Redhawks, scoring a game-high 28 points on 11-of-26 shooting.
After a relatively pedestrian first half that saw her tally six points, Gray scored 10 in the third quarter and added a dozen in the final frame, including a three to tie it with 1:30 remaining and the go-ahead steal-and-lay-up combination on the ensuing possession.
After Gray's bucket with 1:11 remaining put the Govs up two, Southeast Missouri's Ashton Luttrull hit a pair of free-throws with 34 seconds left to tie it again. Gray missed a jumper on the ensuing possession and in the scramble for the loose ball, Austin Peay's Beth Rates was whistled for a foul with six seconds to go. Southeast Missouri's Erin Bollmann hit both her free throws, which set up the Governors final attempt.
Bollmann and Johnson led the Redhawks with 15 points apiece. Adrianna Murphy added nine points, 10 rebounds and a game-high five assists for Southeast Missouri (13-9, 6-3 OVC).
Gregory was the only Governor aside from Gray in double figures—she finished with a career-high tying 11 points.
Inside the Box Score
After a 34.5 percent (10-for-29) performance in the first half, the Governors found the range over the second 20 minutes, hitting 50 percent from the floor, including their first four shots in the third quarter.

Austin Peay was active on the offensive glass with 11 offensive boards, but were only able to turn that into eight second-chance points. Southeast Missouri, meanwhile, turned 19 offensive rebounds into 20 second-chance points.

The game featured 18 ties and 24 lead changes.

Austin Peay's guards were more efficient from the floor than its post players in this one, shooting a combined 44.7 percent (17-of-38) compared to the posts, which posted a 39.1 percent (9-of-23) outing.
Up Next
The Austin Peay Lady Govs four-game road trip continues Wednesday, February 3rd with a trip to UT Martin. Tip-off is scheduled for 6:00pm.
Sections
Sports
Topics
APSU, APSU Athletics, APSU Basketball, APSU Sports, APSU Women's Basketball, Austin Peay State University, Beth Rates, Cape Girardeau MO, Clarksville TN, Erin Bollmann, Imani Johnson, Keisha Gregory, Lady Govs, Ohio Valley Conference, OVC, Redhawks, Show Me Center, Southeast Missouri, Tearra Banks, Tiasha Gray, UT-Martin