APSU Sports Information

Clarksville, TN – On Senior Day, Tiasha Gray wasn't going to allow Southeast Missouri to spoil the night for her and her four Austin Peay State University senior teammates.
Gray scored 27 points, including what proved to be the game-deciding three-point play with 1:31 left, to lead the Govs to a 74-71 victory against the feisty Redhawks in OVC action in Dave Aaron Arena.
The Lady Govs, who knew they were going to be a part of next week's OVC tournament after Thursday night, ended the regular season with a 10-19 record, 8-8 in the OVC.
It improved APSU to 9-3 at home this season, its best Dunn Center mark since 2003-04, and 7-1 in league home tilts.
It a game that saw the two teams combine for 75 first-half points, both teams shooting 50 percent or better, slow to a defensive battle in closing half as neither shot 40 percent.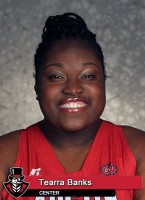 APSU, however, found a way to build an 11-point fourth-quarter lead, 62-51, on a Tearra Banks short lane jumper with 6:36 left. But from that point on SEMO mounted the pressure, methodically slicing down the lead to four, 66-62, on two Hannah Noe free throws with 3:40 remaining.
Gray answered with a driving layup to push it back to six before Deja Jones knocked down a baseline jumper cut the lead to 68-64 with 2:02 remaining. APSU elected to utilize as much the shot clock as possible before Gray drove the lane, tossing a short shot off the glass while being fouled by Noe with 1:31 left. Gray completed the three-point play with the free throw.
Southeast Missouri battled in the closing minute to cut the deficit to three, 74-71 and, after a five-second call, had the ball with 11 seconds left, but the APSU defense forced Imani Johnson to take a desperation three pointer with two seconds left that fell well short.
Gray, who also had six assists and three steals, was joined in double figure by Sydney Gooch and Beth Rates, each with 10.
Brianna Mitchell led SEMO with 24 while Jone added 20 and Hannah Noh 11.
APSU head coach David Midlick started all four seniors (Gray, Lauren Maki, Shelby Olszewski, Symantha Norton) who were dressed—Jennifer Nwokocha has missed the entire season with a leg injury.
When Gray scored on a layup with 8:07 left in the second quarter, it was her sixth point and pushed her past Gerlonda Hardin (1,863 points) and into second place all-time behind Brooke Armistead.
After scoring the first period's last seven points to take a 15-14 lead, the Govs continued their scoring rampage, scoring the first seven points to bucket to take a 22-14 advantage.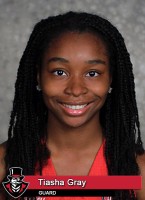 That lead eventually erupted to 18 points after Brianne Alexander scored five points on one Govs trip—she scored inside on one play and was fouled, missed the free throw; grabbed the rebound and scored again, also being fouled, this time making the free throw).
But Southeast hasn't authored the OVC's best turnaround without weathering adversity. After regaining their bearings the Redhawks outscored the Lady Govs 15-2 the half's remainder, with two Noe threes sandwiched around a Corneisha Henderson drive accounting for much of the impetus, to trail only by five, 40-35 at halftime.
However, it was Mitchell with 16 points to lead all scorers in half while Gray tallied 11 for APSU.