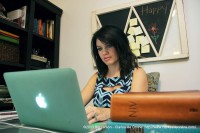 Clarksville, TN – Recently, my husband and I attended a conference for motorcycle dealers from all over the country. It was a 2-day event, held in a hotel with meals and speaking/training carefully coordinated.
I met the lady who did all of the planning on the way into the opening dinner and then happened to be seated next to her. Everyone was introducing themselves and their lofty titles with the company, so I asked her, "What is your official title?" She said, "Oh I'm just a receptionist. I'm no one important."
What?
I stopped her right there. I reminded her who planned this event: why everyone was eating a decent meal and staying at a nice hotel. I think she knew that she was useful. I just don't think she knows that she's
important.
We are told that importance comes with the titles, or when it is crowned in recognition. We think that it looks like power and feels like obvious success.
But being important is not the same as looking important. And being important has a lot more to do with who we are than who we appear to be.
Therefore we also have as our ambition, whether at home or absent, to be pleasing to Him. For we must all appear before the judgment seat of Christ, so that each one may be recompensed for his deeds in the body, according to what he has done, whether good or bad. (2 Corinthians 9:5-10)
Whether we are the CEO of the large corporation or CEO of our household, there is no "just" before our title. We are not just a mom, just a teaching assistant, just a nurse, just a coach or just a receptionist. We have been given a place for a time, and we are to rock it, not just wait to be "important" in the eyes of men.
This reminds me of one of my favorite people in the Bible. Her name was Deborah. She was a Judge and prophet, and she was an adviser to men who led their troops into battle. Deborah's wisdom and God-given insight inspired great trust in her, causing her to be a highly trusted adviser.
But do you know what else Deborah did? She lit lamps, "The rabbis say she was a keeper of the tabernacle lamps."*
So if the rabbis are correct, then Deborah just lit lamps. Then she became a Judge and a prophet, held in high regard and deep respect. Deborah's hope was in the Lord. Her leadership was ordained by God. But first, she was a wife tasked with humble jobs and without a title.
But she was always Deborah. God's Deborah. God's servant. God's child.
There may have been strength in her title, and there was much praise for her contributions to winning a battle, but her true strength came from her obedience.
A commander Barak, whom she advised, refused to ride into a dangerous battle without her. She was a prophet, not a soldier, but she was faithful, and she accompanied him without hesitation. The battle was won (read Judges 4 for how the story ends).
And in Judges 5:2, Deborah gives the glory of the victory to the Lord.
I don't know what you are doing right now, or what you think you should be doing in order to be important. But I can assure you that you are already important, you are already entrenched in important jobs, and you are fully capable of an important purpose.
And I don't care how important we think we are; if we are not living for the Lord, we are missing a life of true significance.
But whether you do your work from a stage, a boardroom or the laundry room, if you are doing it for God, and giving Him the glory, you are just amazing.