Clarksville, TN – The Clarksville Police Department is investigating several vandalisms to vehicles in multiple subdivisions. Sometime in the late evening hours of March 5th, 2016 to March 7th, 2016, an unknown suspect(s) shot at several vehicles with what appeared to be BBs.
In one of the incidents, a witness heard, what sounded like fireworks, at approximately 11:00pm on March 7th, 2016 and looked out the window to see an older model gray car drive off from the area (Glenhurst Way). The observed damages included broken windows and vehicle body damage.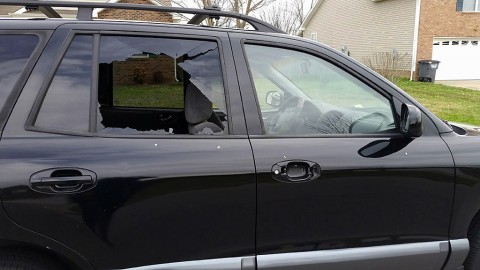 Locations of the BB Gun Incidents:
Between the evening hours of March 5th, 2016 to March 6th, 2016, two vehicles were vandalized on Acorn Drive—off of Ashland City Road, and one vehicle was vandalized on Post Road—in a subdivision between Madison Street and Memorial Drive.
The majority of the vehicle vandalisms occurred in subdivisions off of Trenton Road—subdivisions surrounding Northeast High School (Glenhurst Way, Winding Bluff Way, Short Bluff Drive, Stillwood Drive, Aspen Grove Way, and Harvest Ridge). The vehicles damaged in the Northeast High School area occurred between the evening hours on March 6th, 2016 to March 7th, 2016.
If anyone has information related to the BB gun vandalisms, please call or text the CrimeStoppers TIPS Hotline at 931.645.TIPS (8477) – Text to 274637 (CRIMES).