Tennessee Representative Curtis Johnson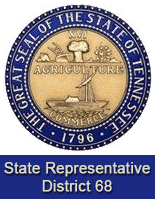 Nashville, TN – Tennessee Lieutenant Governor Ron Ramsey announced Wednesday on the Senate Floor of his decision not to run for another term. In a tearful, farewell speech Governor Ramsey said, "When I ran for office four years ago, I had a 1-year-old grandson," Ramsey said. "I now have four grandsons. My first granddaughter will be born today."
Speaking to his colleagues, he said "this has not been an easy decision. I love the state Senate. I love being lieutenant governor. And I consider each and every one of you a true friend."
Ramsey has served 24 years in the legislature, including 20 in the Senate. When he took over as Senate speaker in 2007, he became the first Republican to hold the post in 140 years.
"I consider Ron Ramsey a close friend," said Tennessee Representative Curtis Johnson. We often compared notes on our grandchildren. "I will truly miss him."
Bill to Strengthen DUI Laws Pass House FWM Subcommittee
The House Finance Ways & Means Subcommittee approved and sent to the full Committee a major bill this week strengthening Tennessee's DUI laws. The proposal requires immediate sharing of an impaired driver's DUI arrest and conviction history with law enforcement, the courts and the National Crime Information Centers (NCIC).
The legislation stems from a tragic crash in Mississippi involving the deaths of two Shelby County students by a driver who carried five convictions for first offense DUI and was out on bond for his sixth DUI. Records revealed three counties and one municipality in Mississippi failed to inform the Mississippi Department of Public Safety about the convictions so it could be put into the NCIC database. The NCIC database is accessible by law enforcement officers in their squad cars to check the criminal background of arrestees.
The Mississippi and Tennessee legislatures are moving similar legislation to address the sharing of information in DUI cases as well as conditions related to bail for defendants with prior alcohol-related offenses and the procedure for revoking bond.
Specifically, House Bill 1427:
Requires that, after an arrest but before a bail hearing, a criminal background check shall be run using all available databases to determine prior arrests for DUI offenses;
Creates the procedure for a bail revocation hearing if the defendant violates a condition of release, is charged with an offense during release or engages in conduct which results in the obstruction of the orderly and expeditious progress of the trial or other proceedings; and,
Makes special conditions on bail mandatory when the defendant has one or more prior alcohol-related convictions, including ignition interlock devices, transdermal monitoring devices or other alcohol monitoring devices, electronic monitoring with random alcohol or drug testing or pre-trial residency in an in-patient alcohol or drug rehabilitation center.
If being monitored is a condition of bail, the legislation requires the defendant must periodically report to the supervisor every 30 days to verify proper operation of the monitoring device and the court must be notified upon any violation.
Rural Economic Opportunity Act Receives Unanimous Approval
Legislation spearheaded by House Republicans to spur economic development across the state received unanimous approval this week on the House floor.
Known as the 'Rural Economic Opportunity Act of 2016', the legislation has two main parts. First, the bill would implement a new program called 'PREP' or 'Propelling Rural Economic Progress'. This innovative program would allow grants from the PREP fund to be used to help rural counties build sites and infrastructure to make their communities more attractive to prospective companies.
Second, the legislation would restructure the county tier system making it easier for businesses in rural counties to qualify for job tax credits. This, in turn, would make it easier for these same businesses to expand and hire new workers.
Additional information regarding this legislation can be found on the Tennessee General Assembly website at http://1.usa.gov/1TnY9AX
Contact Information
Rep. Curtis Johnson
15 Legislative Plaza
Nashville, TN 37243
615.741.4341
rep.curtis.johnson@capitol.tn.gov
For more information about the Tennessee General Assembly, check our website at www.capitol.tn.gov