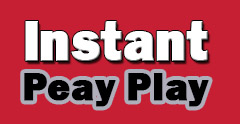 Clarksville, TN – Over the past 17 years, hitting streaks for players on Austin Peay State University's softball team have been on the shorter side — usually six or seven games — but current Governors player Kacy Acree is on the verge of the best hitting streak by an APSU player this century.
Going into this season, only four Govs have reached double-figure games during their hit streaks since 2000 – Jennifer Simpkins (11 games) in 2004, Ashley Taylor (11 games) in 2008, Lauren de Castro (13 games) in 2012, Kayla Davidson (10 games) in 2013 and now Acree this season, with her current 12-game hit streak.
Acree, who is a red-shirt freshman outfielder from Riverside, CA, collecting hits in all four road games versus Morehead State and Eastern Kentucky this past weekend – two of the top three teams in the OVC standings — to extend her current hit streak to 12 games – one short of de Castro's 13-game run in 2012.
But it's not merely getting a hit a game that Acree has been doing during her streak, as she has also led the team in runs scored, extra-base hits, slugging percentage and on-base percentage during this span.
Over her 12-game run she is hitting an even .500, recording 18 hits — including four doubles, two triples and a home run — while also drawing six walks and being hit by two pitches.
What makes this run even more special is that the last seven games (all on the road) in the streak have all come against OVC opponents, again, second only to de Castro getting hits in 11 straight OVC games during her 13-game run.
This hitting streak isn't the only exceptional thing that Acree has done at the plate in 2016, as she became only the second Austin Peay softball player to hit a home run in her first college at bat since 1995.
Overall this season, Acree has not had two straight games without recording a hit — collecting hits in 19 of the Govs 25 games overall – including 10 being multiple-hit games.
Like all good things Acree's current hit streak will end at some point, but even in her first collegiate season she has excelled at being able to come up with a hit on a consistent basis for Austin Peay.
Luckily for the Govs and their fans they will get to see Acree in an APSU uniform for the next three-and-a-half years, with the sky being the limit for this left-handed hitting Californian.