Austin Peay Sports Information

Columbia, KY – Austin Peay State University men's tennis team continued its recent 4-3 trend, Wednesday, knocking off No. 7 ranked NAIA power Lindsey Wilson at the Henry Baughman Tennis Complex.
The Governors (3-7) extended their winning streak to three on the season, with all three matches decided by one point.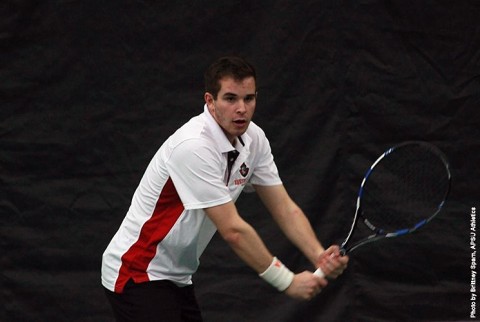 In addition, it's APSU's first victory over the Blue Raiders (8-3) since 2013 after two consecutive defeats.
Austin Peay maintained its success in doubles to begin the day, earning the first point for the fourth-straight contest. The No. 2 tandem of Almantas Ozelis and Aleh Drobysh has impressed since OVC play began, compiling a five-match winning streak and 5-1 overall record. Wednesday, the duo stayed hot with an 8-5 win over Alonso Tellez and Ignacio Huertas.
At the top, LWC's Raul Mendez and Denis Porcic defeated Aaron Jumonville and Manuel Montenegro, 8-6, but No. 3s Chad Woodham and Alex Kartsonis topped Tomas DePiaggio and Javier Raya, 8-5, to grab the point.
In singles action, three newcomers helped the Govs seal the victory over Lindsey Wilson.
Ozelis set the tone at the No. 2 spot, rallying to defeat Mendez in three sets, 2-6, 6-4, 7-5. Freshman Alex Kartsonis earned his second collegiate win with a 6-3, 6-4 decision over DePiaggio, while Woodham picked up his third-straight nod, defeating Raya, 6-4, 6-4.
Lindsey Wilson leveled the score at 3-3, with Porcic defeating Jumonville, 6-4, 6-1, Telles cooling off OVC Player of the Week Montenegro, 6-3, 6-3, and Huertas edging Drobysh, 3-6, 6-4, 6-4. However, it wasn't enough as the doubles point proved to be key once again for the Govs.
Austin Peay meets another nonconference foe in Tennessee this Sunday in Knoxville, first serve scheduled for 12:30pm, CT.