APSU Sports Information

Cookeville, TN – With back-to-back road wins in hand, Austin Peay State University's baseball team will look to continue its recent road success in a three-game Ohio Valley Conference series against Tennessee Tech, Friday-Sunday, at Bush Stadium.
The series begins with a 6:00pm, Friday contest and continues with a 2:00pm, Saturday contest before concluding 1:00pm, Sunday.
Austin Peay (14-9, 6-3 OVC) ran its win streak to a season-best five games with a 16-10 road win against Southern Illinois, Tuesday.
The Govs offense topped the 10-run mark for the fifth time in its last six games while rapping out a season-best 22 hits.
The Govs have enjoyed wins in their last two road contests, both midweek outings. However, they enter the weekend set at Cookeville seeking to improve their weekend road mark, which stands at 1-5 after the Govs suffered a sweep at Jacksonville State, two weekends ago.
The weekend against Tennessee Tech will see Austin Peay will make the first personnel change to its weekend pitching rotation this season. Junior right-hander Caleb Powell will move into the No. 3 spot as the Govs seek to shore up their pitching. Junior right-hander Alex Robles and sophomore lefty Michael Costanzo will reprise their roles as APSU's No. 1 and 2 starters.
Austin Peay has won the last two series against Tennessee Tech, including a sweep of last season's series in Clarksville, TN. The Govs have lost just one series in the last five dating back to the 2011 season against the Golden Eagles.
First Hacks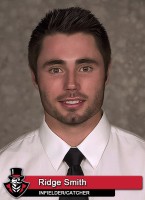 Austin Peay's offense leads all Division I teams in slugging percentage (.554) and doubles per game (2.83) entering the season's seventh weekend. The Govs also are ranked among the nation's Top 20 in batting average (6th, .330), on-base percentage (14th, .413), home runs per game (5th, 1.35) and triples per game (10th, 0.52).
Junior utility man Ridge Smith owns a 17-game reached base safely streak (.359 BA, 7 HR, 19 RBI, .449 OBP). Senior outfielder Patrick Massoni has eight-game hit streak (.538 BA, 6 RBI). Senior outfielder Kyle Blackburn owns APSU's longest active hit streak – a nine-game hit streak (.517, 10 RBI, 5 2B).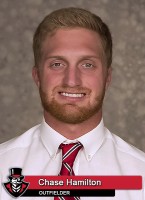 Junior outfielder Chase Hamilton also owns an eight-game hit streak (.444, 8 RBI, 7 BB) with two hits in each of his last three games. Junior designated hitter Alex Robles has a RBI in five-straight games (9 RBI), including two three-RBI performances. Junior first baseman Dre Gleason notched his third four-hit game of 2016 with a 4-for-6, two RBI outing at Southern Illinois.
Senior shortstop Clayton Smithson has eight RBI in his last three games with six hits (.462), including five extra-base hits. Junior second baseman Garrett Copeland reached base in all six plate appearances at Southern Illinois, finishing the day 5-for-5 with three RBI, a triple and his season's second home run.
Behind the plate the trio of Smith, sophomore T.J. Marik and freshman Alex Sala continue to split time. Alex Sala hit his first collegiate home run at Southern Illinois (3rd collegiate hit). Injuries and illness depleted the Govs roster during March with six players missing significant parts of the 16-game span and 15 players starting a game during the month.
For the first time since 1988 a new face is guiding the Governors with first-year head coach Travis Janssen coming to Austin Peay after four seasons at Division II Northeastern State (Oklahoma). Austin Peay is just 3-6 in road games this season but is 11-3 at home.
Toeing the Rubber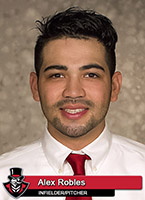 Junior right-hander Alex Robles will make his 24th career OVC start as the Govs No. 1, he is 13-5 with a 3.38 ERA all time. In two starts against Tennessee Tech, he is 2-0 with a 2.93 ERA, recording 13 strikeouts in 15.1 innings.
Sophomore left-hander Michael Costanzo notched his fourth home win in as many starts with a six-inning outing against Murray State last weekend. The Chicago native is 0-1 with a 12.27 ERA in two road starts this season.
Junior right-hander Caleb Powell moves into the No. 3 spot in the rotation after posting three straight wins as the Govs midweek starter. It will be his 12th career OVC start and first since a Game 3 start at Belmont last season.
Tennessee Tech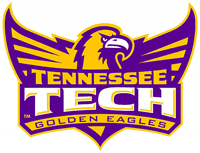 Tennessee Tech (13-10, 5-4 OVC) has won its last two OVC series (vs. UTM and at SIUE) to move into a tie for fourth place, one-game behind APSU. The Golden Eagles pitching staff has held opponents to nine runs or less in 11 consecutive outings (4.32 ERA, 9.70 K/9).
Junior right-hander Chase Burkett is TTU's No. 1 entering the weekend, his 4.02 overall ERA ranking 10th among OVC pitchers. Out of the bullpen, freshman right-hander Ethan Roberts has not allowed a run in 10.1 innings of OVC play, striking out 15.
At the plate, junior catcher Chris Brown leads TUU with a .346 batting average that ranks 16th among OVC hitters but his .515 on-base percentage is third in the OVC. Sophomore first baseman Ryan Flick and senior second baseman Jake Farr share the team lead with 21 RBI each – Farr posting eight RBI in Tuesday's rout of Kennesaw State.
Broadcast Information
Digital Audio
Audio for all baseball contests available free online at www.LetsGoPeay.com/listen
Live Statistics: www.PeayStats.com
Twitter: @AustinPeayBSB