APSU Sports Information

Owens Cross Roads, AL – It started with an unfulfilling trip to a clinic early in the morning and the day didn't get any better for Austin Peay State University women's golf team, Tuesday, in second-day play of the Ohio Valley Conference championship.
As a result, APSU's women shot a second-round 311 and dropped to sixth place heading to Wednesday's final day on The Highlands Course at The Robert Trent Jones Golf Trail at Hampton Cove.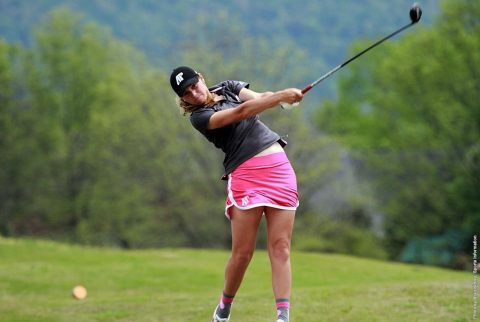 APSU sits at 619. Defending champ Eastern Kentucky is running away with it, shooting a second-round 294 to reside at 587—20 shots better than second-place Jacksonville State.
The day didn't start positively when All-OVC senior Jessica Cathey awoke early in the morning with her an undefined allergic reaction that left her eyes swollen shut. Head coach Sara Robson took her to a nearby clinic but Cathey could not be seen in time without potentially being disqualified for the round.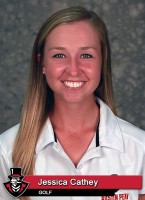 Cold compresses were administered to the eyes to reduce swelling. Some over-the-counter allergy medicine also was taken and by tee-off time, Cathey at least had some vision.
It was a struggle all day for the senior. After being in fourth place, Monday, she ended Tuesday's round with a 78.
"You just can't say enough about how Jessica battled through it," APSU assistant coach Amy McCollum said. "She fought the whole day. She could hardly see, especially at the start of the day."
But that wasn't the only issue. Sophomore AnnaMichelle Moore saw the break lock on her pull cart. Taylor Goodley took a tumble after hitting a shot from the sand. Twin sister Ashton continues to battle a foot injury.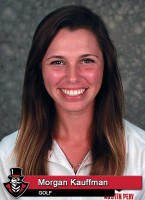 McCollum, however, liked the way the Lady Govs responded to adversity. Junior Morgan Kauffman carved out her second solid round, shooting a 76 to go with Monday's 75. She is sitting at 151, tied with Cathey and two others for eighth place.
Freshman Ashton Goodley bettered Monday's opening round 79 with a 78. Taylor Goodley bounced back from Monday's 81 to shoot 79, Tuesday. Moore saw a 5-over 10 on No. 9 ruin what started out to be a positive day. She finished with an 87.
"I know they were all worried about Jessica," McCollum said. "But I don't think it affected them negatively. They were out there playing for her and really wanting to score well, knowing how she was feeling.
"A couple of them had some bad holes or a big number but came back a birdie or par—they kept on fighting. There is a lot to be said about that. There were a lot of positives to take from the round."
With EKU clearly having a stronghold on the title, it will be up to APSU to advance up the leaderboard.
"I think tomorrow is to keep the same game plan and mindset we have had all week—taking one shot at a time and keeping that confidence up."
Box Score
2016 Ohio Valley Conference Women's Championship
RTJ at Hampton Cove
Owens Crossroad
| | | | | |
| --- | --- | --- | --- | --- |
| Pos. | School – Players | Round 1 | Round 2 | Totals |
| 6 | Austin Peay State University | 308 | 311 | 619 |
| T 8 | Jessica Cathey (1) | 73 | 78 | 151 |
| T 8 | Morgan Kauffman (2) | 75 | 76 | 151 |
| T 21 | Ashton Goodley (4) | 79 | 78 | 157 |
| 30 | Taylor Goodley (3) | 81 | 79 | 160 |
| T 41 | AnnaMichelle Moore (5) | 81 | 87 | 168 |
| | | | | |