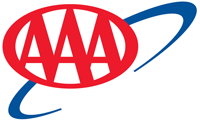 Knoxville, TN – Thunderstorms are creating flash flood situations in Northern Tennessee. AAA urges motorists to be cautious. Heavy rainfall can create dangerous driving conditions with little to no visibility.  It is very important that motorists adjust their typical driving style.
Nearly 1.2 million traffic crashes occur each year on wet pavement with more than a half million injuries and 5,700 deaths, according to data from the National Highway Traffic Safety Administration.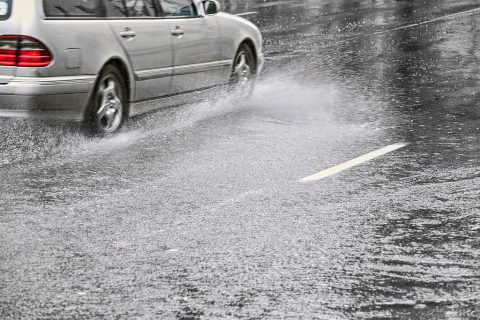 "It's important that drivers heed official warnings and avoid driving on wet and flooded roads if able," said Don Lindsey, Tennessee Public Affairs Director, The Auto Club Group. "Even on familiar roads, driving through standing water is especially dangerous, because you can't tell just how deep the water is or if there are objects below the water that could hurt your vehicle."
If your vehicle shuts down while in standing water, do not try to restart it. Restarting a vehicle in standing water can cause more water to enter the engine and could cost thousands of dollars to repair.
Tips for Driving on Wet Roads
Slow Down and Leave Room: Slowing down during wet weather driving can be critical to reducing a car's chance of hydroplaning, when the tires rise up on a film of water. With as little as ½ inch of water on the road, tires have to displace a gallon of water per second to keep the rubber meeting the road. Drivers should reduce their speed to correspond to the amount of water on the roadway. At speeds as low as 35 mph, new tires can still lose some contact with the roadway. Also, it is important for motorists to allow ample stopping distance between cars by increasing the following distance of the vehicle in front of them and beginning to slow down to stop for intersections, turns and other traffic early.
Avoid Cruise Control: This feature works great in dry conditions, but when used in wet conditions, the chance of losing control of the vehicle can increase. To prevent loss of traction, the driver may need to reduce the car's speed by lifting off the accelerator, which cannot be accomplished when cruise control is engaged.
Rainy Conditions Can Cause Low Visibility: Turn on your headlights to help you see better and to allow other motorists to spot you better. Avoid using your highbeams because you could blind other drivers and the extra light will reflect off the rain, causing more of a distraction for you.
Visibility While Driving: If you can't see the edges of the road or other vehicles at a safe distance while driving during wet weather, pull of the road as far as you can and wait for the rain to ease up. Make sure to turn on emergency flashers to alert other drivers.
Avoid Standing Water and Flooded Roads at All Times: There is no way to tell how deep standing water is on a flooded road and driving through it can cause a vehicle to stall and result in severe damage to the vehicle from:

Flooding the engine
Warping brake rotors
Loss of power steering
Short in electrical components

If Your Vehicle Stalls in a Flooded Area: DO NOT remain in the car. Abandon it as soon as possible and seek higher ground. Flood waters can elevate quickly, sweeping away the vehicle and its occupants.
Check Tires: Make sure tires are properly inflated and have enough tread depth. This will allow the vehicle to have better traction and maneuverability on the road. Worn tires with little tread are much more likely to hydroplane on wet pavement, resulting in a loss of braking power and steering control. Check the tread depth of your car's tires by inserting a quarter upside down into a tire groove. If you can see above Washington's head at any point, it's time for new tires.
About The Auto Club Group
The Auto Club Group (ACG) is the second largest AAA club in North America.  ACG and its affiliates provide membership, travel, insurance and financial services offerings to over 9 million members across eleven states and two U.S. territories including Florida, Georgia, Iowa, Michigan, Nebraska, North Dakota, Tennessee, Wisconsin, Puerto Rico and the U.S. Virgin Islands; most of Illinois and Minnesota; and a portion of Indiana.
ACG belongs to the national AAA federation with more than 56 million members in the United States and Canada and whose mission includes protecting and advancing freedom of mobility and improving traffic safety.