APSU Sports Information
Clarksville, TN – Austin Peay State University's baseball team enters its final weekend of Ohio Valley Conference play when it travels to SIU Edwardsville for a three-game set, beginning with a 6:00pm, Friday contest at the Simmons Baseball Complex.
The Govs and Cougars will follow the opener with a 2:00pm, Saturday contest followed by a 1:00pm, Sunday matchup.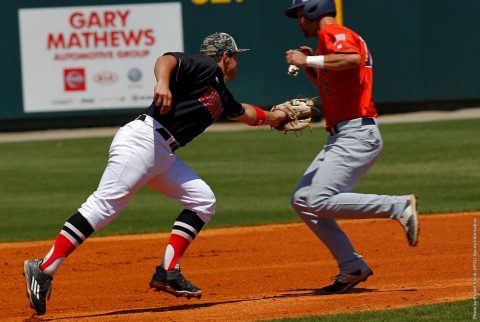 The Governors enter the weekend with plenty at stake. Austin Peay could climb into second place with a three-game sweep, forcing Jacksonville State to win four of its final six games to regain the spot.
They also conceivably could be in the race for the league's regular-season title, but would need to sweep SIUE, have JSU win no more than four games and have Belmont sweep Southeast Missouri.
Austin Peay has had mixed results on the road in OVC play this season. The Govs are 2-2 in their four road series, including a 2-1 series loss in their trip to Morehead State. However, Austin Peay did win series at Belmont and at Tennessee Tech. Still, the Govs are just 9-12 overall on the road this season – 5-7 in OVC road games.
First Hacks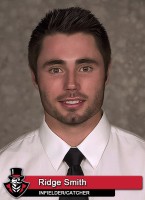 The Govs are ranked among the nation's Top 35 in slugging percentage (7th, .492), batting average (32nd, .304), on-base percentage (28th, .396), doubles per game (5th, 2.41), home runs per game (12th, 1.17) and scoring (19th, 7.59 runs per game). Eight different Govs hitters have pieced together a reached-base safely streak of 10 or more games at some point this season.
Junior Ridge Smith has started at catcher in the Govs last three games and has reached base 14 times in his last 28 plate appearances (4 H, 9 BB) while striking out just three times. Junior designated hitter Alex Robles had a four-game hit streak that has seen him bat .500 (6-for-12) and post a .600 on-base percentage.
Junior second baseman Garrett Copeland is battling through a rough stretch at the plate over the last seven games, batting .188 (6-for-32, seven walks) with his season average dropping 27 points. Junior first baseman Dre Gleason has been held hitless in APSU's last four games, extending a now 17-game stretch that has seen him bat .167 (8-for-48).
Junior transfer TJ Conroy has started six of APSU's last seven games at shortstop and posted a career-high three RBI in the Govs UTM series finale win. Junior right fielder Chase Hamilton posted back-to-back three-hit performances against UT Martin, part of a larger stretch that has seen him bat .345 (19-for-55) with 20 RBI in the last 14 games (since April 16th).
Senior center fielder Patrick Massoni has batted .326 (16-for-45) with four walks (.392 OBP) in 12 games since April 19th. Junior left fielder/third baseman Logan Gray has a hit in 14 of the 17 games since his return to the starting lineup, April 10th; he is batting .426 (29-for-68) with six home runs and 22 RBI.
For the first time since 1988 a new face is guiding the Governors with first-year head coach Travis Janssen coming to Austin Peay after four seasons at Division II Northeastern State (Oklahoma).
Austin Peay has won 19 of its last 27 after starting the season with a 9-9 mark. APSU owns a 19-5 record, including an 13-2 mark in OVC play, at Raymond C. Hand Park this season.
The Governors have won nine of their last 17 road contests after starting 2016 with a 1-6 road record.
Toeing the Rubber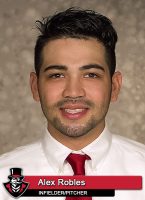 Junior right-hander Alex Robles got May off to a good start with his eighth quality start of the season (each resulting in an APSU win). His win against UT Martin was his career-best eighth this season (6 wins in both '14 and '15) and moved him within one win of tying Rowdy Hardy (19) for most career OVC wins.
Junior right-hander Caleb Powell will move up into the No. 2 role this weekend posting his third straight OVC win with a career-high seven-inning outing against UT Martin last Sunday. He leads the Govs with a 6-1 record and 3.21 ERA as a starter in 2016.
Sophomore left-hander Michael Costanzo suffered his first home loss, Saturday, against UT Martin. He enters the final OVC weekend looking to snap a four-game streak that has seen him pitch just 18.1 innings (4.2 per game) and post a 9.82 ERA.
About the SIU Edwardsville Cougars
SIU Edwardsville (9-34, 6-18 OVC) has been a late-season thorn in Austin Peay's side the last two seasons, with series losses in 2014 and 2015 ultimately knocking the Governors out of tournament contention. However, this Cougar squad, at 6-18 in OVC play, is not as formidable as the third-place (2015) and fifth-place (2014) squads, sitting in 10th place entering the series.
Keaton Wright's .360 average ranks ninth in the OVC, but as a whole the Cougars are hitting just .243; Wright (.362), Dustin Woodcock (.281) and Skyler Geissinger (.270) are the only players hitting above .265 in OVC play. The Cougars won't beat themselves in the field, posting a league-leading .972 fielding percentage in 2016.
Broadcast Information
Digital Audio: Audio for all baseball contests available free online at www.LetsGoPeay.com/listen
Live Statistics: www.PeayStats.com
Twitter: @AustinPeayBSB