Written by Sgt. Katie Eggers
Headquarters, 101st Airborne Division (Air Assault)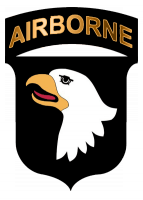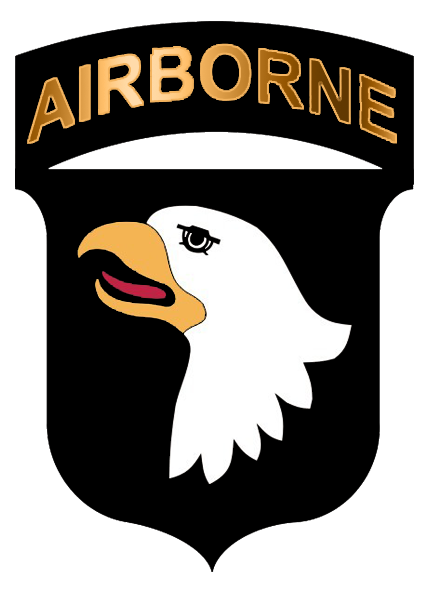 Baghdad, Iraq – When 101st Airborne Division (Air Assault) service members started their day Saturday morning, "Cover Down," part of the 101st Band, was already playing popular music. Shortly after 6:00am, personnel from 101st, sister services and Coalition were getting covered in colors – blue, green, red, orange, pink, purple and yellow.
The USO-sponsored 5K color run started off an early celebration of Independence Day, which began a day of activities for service members deployed in support of Combined Joint Forces Land Component Command – Operation Inherent Resolve, led by the 101st at Forward Operating Base Union III, Baghdad.
Two days later, in northern Iraq, other members of the 101st, including Strike Soldiers from Task Force Strike, led by 2nd Brigade Combat Team, 101st Airborne Division, held a cookout hosted by the USO and took part in numerous games and activities. They were also entertained by the 101st Band group, The Other Guys.
When Strike isn't celebrating the U.S.'s birthday, they are leading the advise and assist mission and surface-to-surface fires mission, enabling Iraqi security forces to defeat the Islamic State in Iraq and the Levant.
Sgt. Jason Nesman, the CJFLCC-OIR and 101st chaplain operations noncommissioned officer, took third place in the rock-paper-scissors competition after beating his supervisor. He said he was excited for the event.
"This was out of the norm, and it kind of helped the seniors and peers and the lower enlisted all get together and do something that we can all be on common ground with," said Nesman.
Sgt. Dominique Cobb, a logistics noncommissioned officer with Headquarters and Headquarters Battalion, 101st Airborne Division, was in charge of planning the day's activities. He also got to participate in the rock-paper-scissors tournament – his favorite part of the day.
"I was put out first round, but it was nice to actually watch people," said Cobb. "People were really into it."
Planning for the day's activities started two months ago and involved a lot of coordination with the USO, which provided Union III with any needed supplies. There was a lot of positive feedback, and the photos taken throughout the day all had a common theme, said Cobb.
"There were people that you typically see daily that don't really smile and don't really show any type of emotion or anything," said Cobb. "You see those people and it's like, wow, that person was smiling. That person was having a good time. That was the most rewarding part to me."
CJFLCC-OIR service members were able to enjoy themselves while also reflecting on the meaning of Independence Day.
"It means a lot to our country in general … what we've done for this country, what we're doing for this country, what we will continue to do for this country," said Sgt. Jesus Sanchez, the CJFLCC-OIR and 101st commanding general's operations noncommissioned officer in charge.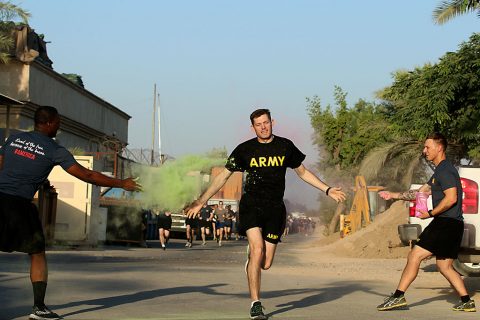 "Fourth of July's meaning to me would be what we are doing in Iraq right now, which means we're serving our country," said Cobb. "We're away from our family. We're kind of carrying America on our backs so to speak."
Many members of the 18-nation Coalition – including the U.K. – took part in celebrating with U.S. service members in Baghdad and across Iraq where U.S. service members are currently deployed.
"I thought that was really neat that they were out there celebrating our Independence Day," said Nesman.
The United States and the Coalition have celebrated with each other for many important occasions. In April, U.S. service members and all of the Coalition nations celebrated Anzac Day, a day of remembrance for Australia and New Zealand.
The celebrations haven't taken away from focus on the mission, said Major General Gary J. Volesky, the CJFLCC-OIR and 101st commanding general. U.S. service members continue to defend America while enabling Iraqi security forces in the fight against the Islamic State of Iraq and the Levant.
"Our ability to get over here and fight this enemy right where they're living, in our mind, is really defending freedom for our folks back home," said Volesky.
Photo Gallery