El Paso, TX – The Nashville Sounds used a season-high 19 runs and 20 hits to bury the El Paso Chihuahuas, 19-5, Saturday night at Southwest University Park.
Bruce Maxwell had a huge night as he matched a franchise record with a five-hit game. He went 5-for-5 with two home runs, a career-high six RBI, and he scored four runs.
The 19 runs was just one shy of matching the franchise record of 20 runs done twice. In the three games the two teams have played, the Sounds (52-42) have scored 43 runs on a staggering 56 hits.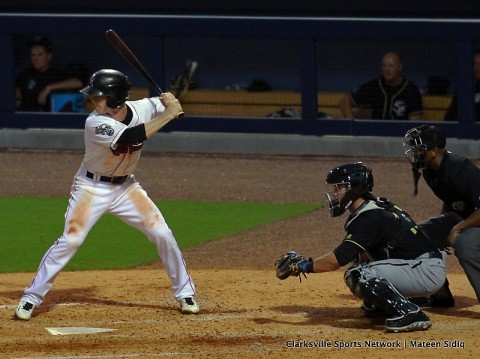 Along with Maxwell's multi-homer game, Nashville shortstop Chad Pinder launched two home runs of his own.
Both of Pinder's blasts were two-run shots – one in the third inning and the other came in the fourth.
The scoring for Nashville was fast and furious. They plated a pair of runs in the first, and then got another two in the third. They scored five runs in the fourth and a single tally in the fifth before exploding for eight runs in the sixth inning. It's the second time this season the Sounds have scored eight runs in a single inning.
In the eight-run frame, run-scoring hits came from Joey Wendle (two-run double), Colin Wash (RBI single), Matt Olson (RBI double), Maxwell (three-run homer), and Arismendy Alcantara (solo homer).
Maxwell and Alcantara became the third pair of teammates to smash back-to-back home runs for the Sounds this year.
Maxwell, Alcantara, Jaycob Brugman, Pinder and Wendle all had multi-hit games. Brugman went 4-for-5 with 3 RBI and 3 runs scored. It's his fifth four-hit game of the season with the Sounds and second in as many games.
Pinder went 3-for-5 with 4 RBI and 3 runs scored while Wendle went 2-for-5 with a pair of RBI and runs scored.
Zach Neal was the benefactor of all the run support. Still working up his pitch count after spending several weeks in the Athletics' bullpen, Neal worked five innings and picked up the win to improve to 7-2 on the season.
El Paso (53-40) starter Daniel McCutchen was charged with nine earned runs in four innings.
With the win, the Sounds are 18-1 against the Pacific Conference. They'll go for the third series sweep of the season in the finale.
The fourth and final game of the series is scheduled for Sunday night at Southwest University Park. Right-hander Chris Smith (5-7, 4.22) starts for Nashville against Michael Kelly (4-0, 3.60) for El Paso. First pitch is scheduled for 7:05pm CST.
The 2016 season is the Sounds' 19th year in the Pacific Coast League and their second as the Oakland Athletics' top affiliate. Tickets are available now by calling 615.690.4487 or by visiting www.nashvillesounds.com