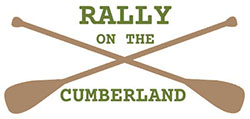 Clarksville, TN – Thrilling, loved it, great event, are just some of the words participants of Saturday's Rally on the Cumberland Canoe and Kayak Race used to describe the event. Everyone crossing the finish line had smiles on their faces and seemed to really enjoy their ride down the Cumberland River.
"We have about 32 participates this year. It is a 5 mile canoe/kayak race from the Montgomery County Conservation Club down to Freedom Point in Liberty Park," stated Clarksville Parks and Recreation Program Superintendent Melissa Adkins. "It's a great way to get people outdoors and to let them see the wonderful waterways that we have here in this county. It's a great event."
The race was set to kick off at 8:00am Saturday morning, July 16th at the Montgomery County Conservation Club, located at 1182 Seven Mile Ferry Road. A light rain moved into the area and delayed the start until 8:40am.
The weather broke and it turned into a beautiful morning with a slight breeze. In fact, the rain stayed away for the entire event, only to return a few minutes after the awards were handed out.
"I think Clarksville Parks and Recreation is being really progressive in the outdoor industry trying to get people outside on the water and expose them to some of the things that Clarksville has to offer like the waterways, the blueways and things like that," said Jason Pennington with Run-A-Much Outfitters. "Clarksville is moving in the right direction in getting people into the outdoor world more."
The race was held in heats and the categories were: Youth ages 13-17, Beginner: 1 person, Beginner: 2 people, Intermediate: 1 person, Intermediate: 2 people, Advanced: 1 person and Advanced: 2 people.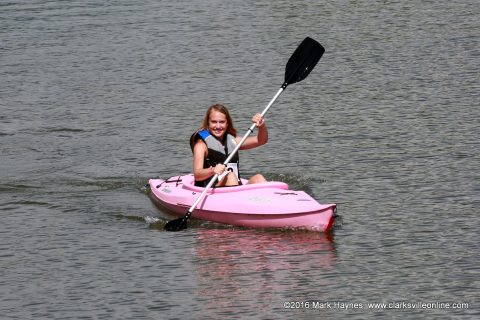 Participants could provide their own canoe/kayak or rent them from Blueway Adventures, LLC or Run-A-Muck Outfitters.
In the Youth Division, Kymberlee McFaul came in first with a time of 1:19:52. Lucas Chambers was tops in the Beginner (Singles) Division with a time of 50:11, third best time of the race.
With a time of 1:07:53, Joseph Garfield and Lisa Garfield won the Beginner (Doubles) Division.
Joseph Stibler had a time of 53:21 to win the Intermediate (Singles) Division. Intermediate (Doubles) Division was won by Imelda Maronde and Shawn Maronde with a time of 1:16:52.
Advanced (Singles) was won by Tim Schramm with a time of 40:39, best time of the race. Mark Sinder had the second best time of the race at 46:42.
"This is a great event. It's the second year that I've done it. I figure the weather may have kept a few people away today. But the rain moved out and it turned out to be a great day," stated Tim Schramm. "There were a lot of great paddlers out here with some really good times."
When asked how he felt about coming in first, Schramm said, "It doesn't matter. It really doesn't. I come out here to compete against myself. I compete against the clock. It's not really about winning, it's about being better than I was yesterday."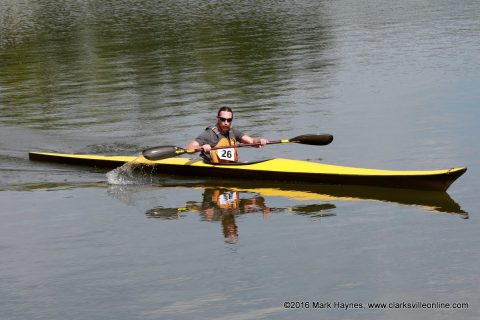 In the end, it was a win for everyone that took part in Rally on the Cumberland. Everyone was all smiles after the event and they all had a good time taking a trip down the Cumberland River
"I loved the event. It's good, it's good. I wish more people would come out and do it. But I liked it," said Cheryl Lemon. "The trip down the river was long but it was fun too. The water wasn't moving. It would have helped if the water was moving a little bit. I look forward to doing this again next year."
If you like getting outside and spending time on the water, then you should make sure to take part in Rally on the Cumberland next year.
2016 Rally on the Cumberland Results
Youth Division ages 14-17 (1 person)
#
Boat
Name
Time
2
Kayak
Kymberlee McFaul
1:19:52
3
Kayak
Megan McFaul
1:25:20
13
Kayak
Hogan Wiggins
1:29:09
Beginner (Singles)
#
Boat
Name
Time
7
Kayak
Lucas Chambers
50:11
8
Kayak
Anthony Johnson
1:07:22
14
Kayak
Adolf Martin
1:17:08
9
Kayak
Kendra Johnson
1:21:23
16
Kayak
Daniel Ross
1:28:33
12
Kayak
Katherin Vanscyoc
1:33:34
17
Kayak
Savannah Higgins
1:34:57
19
Kayak
Cheryl Lemon
1:42:35
Beginner (Doubles)
#
Boat
Name
Time
15
Kayak
Joseph Garfield / Lisa Garfield
1:07:53
1
Kayak
Brad Welker / Joy Welker
1:10:31
Intermediate (Singles)
#
Boat
Name
Time
5
Kayak
Joseph Stibler
53:21
4
Kayak
Brian Ages
55:14
10
Kayak
William Brim
1:04:36
11
Kayak
Phillip Hubbard
1:05:05
23
Kayak
Jeremy Gray
1:06:23
27
Kayak
Eric West
1:07:14
18
Kayak
Richard Gatewood
1:13:46
20
Kayak
Lawrence Lemon
1:17:15
21
Kayak
Scott Figuiredo
1:17:24
24
Kayak
Jeremy Jackson
1:24:01
25
Kayak
Brandon Pryor
1:24:02
Intermediate (Doubles)
#
Boat
Name
Time
6
Kayak
Imelda Maronde / Shawn Maronde
1:16:52
Advanced (Singles)
#
Boat
Name
Time
26
Kayak
Tim Schramm
40:39
22
Kayak
Mark Snider
46:42
Photo Gallery