Clarksville, TN – The Montgomery County Sheriff's Office would like to congratulate the Reserve Deputy Class of 2017 on their recent graduation.
Michael Bevilacqua, David Fivecoat, Charles Gehring, Brian Lynch, Angelique Maynard, Dennis Morgan, Micheal Ritchart, Christopher Smith, Devin Sorensen, and James Weatherford were surrounded by family and friends as they were sworn in by Montgomery County Sheriff John Fuson at the Historic Courthouse on August 26th, 2016.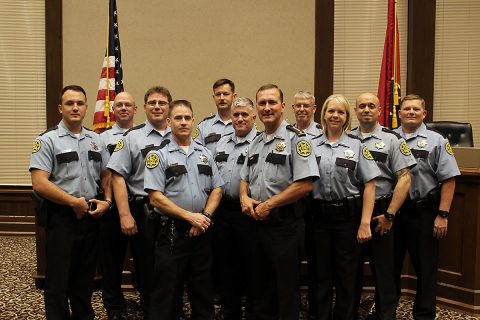 "The application process is very comprehensive. Each year dozens apply, but only a few are accepted into the program," said Lieutenant Brian Prentice. "The course work and field training will eliminate even more."
Reserve deputies attend a weekly four hour class for eight months. They also complete field training on firearms, emergency vehicle operation, active shooter, and trauma first aid.
Anyone interested in applying to become a reserve deputy can contact Lt. Prentice at 931.648.0611 ext. 13403.