Tennessee Athletics Department
Tennessee Vols wins their ninth straight game and moves to 3-0 with a 28-19 win over Ohio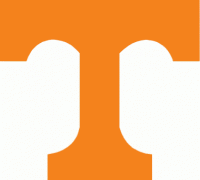 Knoxville, TN –  Josh Malone caught two touchdown passes from Joshua Dobbs as No. 15/15 Tennessee outlasted Ohio, 28-19, on Saturday afternoon in Neyland Stadium.
Dobbs finished 19-of-27 for 203 yards, two touchdowns and one interception and rushed 14 times for 59 yards and a score.
Malone matched his career high with five catches for 69 yards and two touchdowns.
The Vols (3-0) racked up 201 rushing yards. Alvin Kamara had 67 yards on 11 carries and Hurd finished with 61 yards and one touchdown on 15 carries.
The Vols struck quickly as Dobbs found Malone in the end zone the third-consecutive game on a 20-yard pass that split two defenders 38 seconds into the game.
Kamara put the team in position with a 35-yard rush down the right sideline on the first offensive play of the game.
After back-to-back Bobcat field goals, the Vols extended their lead as Jalen Hurd leaped over the pile from one yard out to bring the score to 14-6. Jauan Jennings set up the score with a 17-yard reception, taking the ball down to the one on a bubble screen thanks to a good block from Malone on the outside. The Bobcats (1-2) added two more field goals before halftime to make the score 14-12 entering the break.
The Vols added seven more in the third quarter as Dobbs capped a seven-play, 55-yard drive with a 13-yard touchdown run. The senior quarterback took the shotgun snap and was able to shake an unblocked defender in the backfield before taking off on a sprint to the end zone.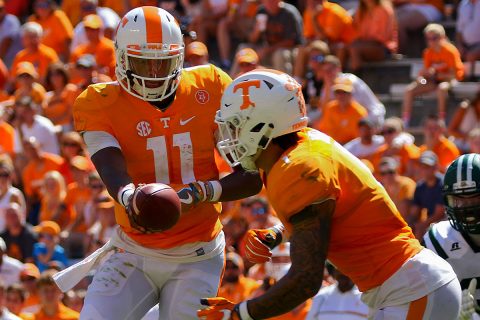 The Bobcats answered that score with a four-yard touchdown pass from Greg Windham to Jordan Reid after a play-action fake that brought Ohio back within 21-19.
Tennessee was able to push its lead to two scores as Hurd started the fourth quarter with an emphatic 28-yard run, leaving a trail of Ohio defenders in his wake down the left side of the field. The drive concluded with Malone's second 20-yard touchdown catch of the game. Dobbs floated the ball to Malone who was able to get behind the Bobcat defense to catch his fourth touchdown of the season.
"Our goal was to be 3-0 at this point, and we are 3-0, but I think everyone will tell you that we have to get a lot better as we start conference play next week," Butch Jones said. "We had some individuals step up. I'm really proud of Baylen Buchanan. He's an individual whose reps have been very minimal and he steps up and really made some big plays for us."
Tennessee won its ninth consecutive game and moved to 3-0 for the first time since 2004.
Malone Catches On: Junior wide receiver Josh Malone caught two touchdown passes on Saturday, the most he has caught in a game this year. He has led the team in receiving in all three games this year and set a career high for touchdowns in a season with four in his first three games of 2016.
Dobbs' Double Threat: Senior quarterback Joshua Dobbs accounted for three touchdowns (two passing, one rushing) in the Vols' victory. He has now been a part of nine of Tennessee's 12 touchdowns (six passing, three rushing) in 2016.
Defense Steps Up: Darrin Kirkland Jr. and LaTroy Lewis missed the game and Jalen Reeves-Maybin and Cameron Sutton both left the game early due to injury. However, other Vols stepped up as Emmanuel Moseley (8), Colton Jumper (7), Rashaan Gaulden (7) and Baylen Buchanan (5) all recorded career highs in tackles.
Up Next: The Vols take on No. 23/23 Florida on Saturday, September 24th, at Neyland Stadium. The game will have a 2:30pm CT broadcast on CBS.
Video Highlights
Box Score
Ohio (1-2) vs. Tennessee (3-0)
| | 1st | 2nd | 3rd | 4th | | Final |
| --- | --- | --- | --- | --- | --- | --- |
| Ohio | 6 | 6 | 7 | 0 | – | 19 |
| Tennessee | 7 | 7 | 7 | 7 | – | 28 |
Team Stats
| | Ohio | Tennessee |
| --- | --- | --- |
| First Downs | 17 | 23 |
| Net Rushing Yards | 88 | 201 |
| Attemps | 30 | 42 |
| Avg Per Rush | 3 | 5 |
| Net Passing Yards | 230 | 203 |
| Comp-Att-Int | 23-46-0 | 19-27-1 |
| Avg Per Att | 5.0 | 7.5 |
| Avg Per Comp | 10.0 | 10.7 |
| Total Offense | 318 | 404 |
| Total Plays | 76 | 69 |
| Gain Per Play | 4.2 | 5.9 |
| Penalties: No-Yards | 5-30 | 9-94 |
| Fumbles: No-Lost | 1-0 | 5-0 |
| Third-Down Conversions | 6 of 20 | 7 of 14 |
| Fourth-Down Conversions | 1 of 2 | 0 of 0 |
| Time of Possession | 30:24 | 29:36 |
Ohio Leaders
| Rushing | Att | Yards | TD | Long | Avg |
| --- | --- | --- | --- | --- | --- |
| Greg Windham | 9 | 39 | 0 | 7 | 4.3 |
| Dorian Brown | 8 | 22 | 0 | 6 | 2.8 |
| Passing | C-A-I | Yards | TD | Long | Sack |
| --- | --- | --- | --- | --- | --- |
| Greg Windham | 23-46-0 | 230 | 1 | 42 | 0 |
| Receiving | Att | Yards | TD | Long | Avg |
| --- | --- | --- | --- | --- | --- |
| Sebastian Smith | 9 | 156 | 0 | 42 | 17.3 |
| Jordan Reid | 4 | 29 | 1 | 14 | 7.3 |
| Defense | Tot | Solo | Sacks | TFL | PBU |
| --- | --- | --- | --- | --- | --- |
| Quentin Poling | 14 | 9 | 0 | 0 | 0 |
| Blair Brown | 9 | 4 | 0 | 0 | 0 |
Tennessee Leaders
| Rushing | Att | Yards | TD | Long | Avg |
| --- | --- | --- | --- | --- | --- |
| Alvin Kamara | 11 | 67 | 0 | 35 | 6.1 |
| Jalen Hurd | 15 | 61 | 1 | 28 | 4.1 |
| Passing | C-A-I | Yards | TD | Long | Sack |
| --- | --- | --- | --- | --- | --- |
| Joshua Dobbs | 19-27-1 | 203 | 2 | 27 | 3 |
| Receiving | Att | Yards | TD | Long | Avg |
| --- | --- | --- | --- | --- | --- |
| Josh Malone | 5 | 69 | 2 | 20 | 13.8 |
| Preston Williams | 3 | 25 | 0 | 11 | 8.3 |
| Defense | Tot | Solo | Sacks | TFL | PBU |
| --- | --- | --- | --- | --- | --- |
| Emmanuel Moseley | 8 | 5 | 0 | 0 | 1 |
| Rashaan Gaulden | 7 | 6 | 0 | 0 | 0 |