Clarksville, TN – The Montgomery County Sheriff's Office is asking for the community's assistance in locating suspect Ronald Phillip Dye, wanted for burglary.
On October 19th, 2016, sometime between the hours of 12:00am and 7:00am, Dye forcibly entered Fred's located at 390 Highway 149 in Palmyra.
Dye attempted to disable the alarm and camera system. He broke down the door to the office area and removed a safe. He loaded the safe into a 2002 Ford Windstar van driven by his wife Ashley Dye.
The safe contained $5,867 in cash, $2,000 of which were funds raised by Fred's employees and customers for Vanderbilt Children's Hospital.
According to store manager Ruth Ann Delozeir, the money was raised from bake sales, cookouts, and a canister by the register where customers could leave loose change.
"It infuriates me that someone would steal money set aside for sick children," said Delozeir. "We hope someone will step forward with information."
Investigators were able to locate Ashley Dye, 26. She has been arrested and charged with accessory after the fact. Her bond is $10,000.
An arrest warrant has been issued for Ronald Phillip Dye, 37, for burglary. His bond is $75,000.
Anyone with information on the location of Dye is asked to call Investigator Cody Lannom at 931.648.0611 ext. 13421 or Crime Stoppers at 931.645.TIPS (8477).
Ashley Dye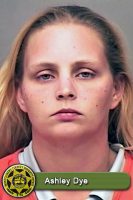 Name: Ashley Dye
Gender: F
Race: W
Address: HWY 49 West, Vanleer, TN
Arresting Officer: Lannom
Charge With: Accessory After the Fact
Booked Into: Montgomery County Jail
Bond: $10,000.00
Photos