APSU Sports Information

Nashville, TN – The defending 2016 Ohio Valley Conference Tournament champion Austin Peay State University men's basketball team was tabbed to finish third in the OVC West Division in the annual preseason poll, comprising of the conference coaches and sports information directors, with junior guard Josh Robinson earning a spot on the preseason All-OVC squad.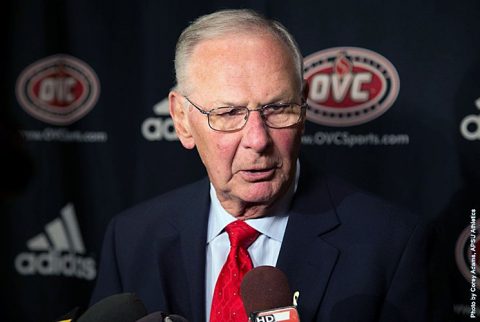 That was announced at Wednesday's annual OVC Media Day, held at the Sheraton Music City.
"I think preseason predictions are really fun and build excitement for basketball season," said head coach Dave Loos. "In the end, this will be settled on the floor and as we found out last year, anything can happen.
Robinson earned a spot on the preseason All-OVC squad, giving the Govs a preseason all-conference selection for the fourth consecutive season. The St. Louis native averaged 16.9 ppg on 40.1 percent from the floor (83.4 percent from the line), hitting 72 total three-pointers for the season.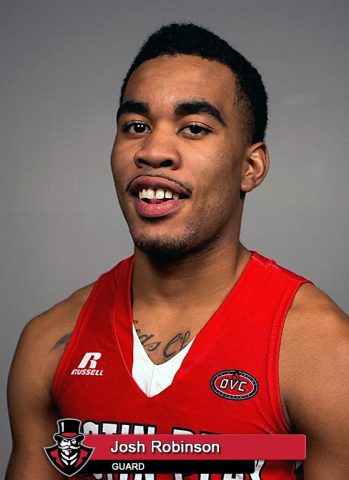 Robinson's late-season move to the point last year propelled the Govs to new heights, with Austin Peay winning six straight—the final two regular-season contests and four games in four days to capture the OVC title—and averaging 84 points per game with Robinson as the primary ball handler, nearly eight points better than Austin Peay's season average.
"I think a number of our players have grown through our experience last year and Josh is one of them," Loos said. "He's shooting the ball well. He has to understand that there will be a target on his back and he's got to meet that challenge. I'm excited for the year coming up for him and a number of our players."
Among the 11 players tabbed as preseason all-conference selections, only Robinson, Antonius Cleveland (Southeast Missouri), Bryce Jones (Murray State) and Cornell Johnston (Eastern Illinois) hail from the West Division.
The Governors tallied 88 points and two first-place votes in the poll, behind Murray State (131 points, 21 of 24 first-place votes) and Eastern Illinois (95 points). UT Martin (82) picked up the remaining first place vote, with SIU Edwardsville (54) and Southeast Missouri (42) rounding out the West selections.
Belmont (16 first-place votes, 126 points) topped the East list, ahead of Tennessee State (106, six votes), Morehead State (98, one vote), Tennessee Tech (62), Eastern Kentucky (60, one vote) and Jacksonville State (40). The Bruins also were tabbed as overall champion, with 16 votes; Tennessee State received six, with Eastern Kentucky and Morehead State receiving one each. Belmont's Evan Bradds was named the OVC Preseason Player of the Year.
"We're excited to get this thing started," Loos said. "I think we'll be competitive and hopefully make a run at this thing again."
Austin Peay opens the exhibition schedule November 1st against Thomas More before beginning the regular season 10 days later at Dayton. The Govs regular-season home opener will be November 14th against Oakland City.
Video
Dave Loos and David Midlick were popular faces at the 2016 OVC Basketball Media Day in Nashville.