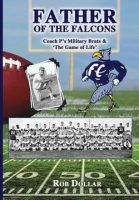 Clarksville, TN – A former newspaperman has written a book that tells the inspiring story of a legendary high school football coach who mentored the sons and daughters of soldiers at the Fort Campbell Army post for more than three decades.

"Father of the Falcons: Coach P's Military Brats & 'The Game of Life'" was released to the public on Saturday, October 1st. The author of the book is Rob Dollar, who worked for the Kentucky New Era in Hopkinsville, Kentucky, as a reporter and senior editor for 20 years before leaving the newspaper in 2003.

The book, Dollar's third as an author, is a tribute to the late Marshall Patterson, Fort Campbell High School's Hall of Fame football and wrestling coach.

It tells the story of Coach P's good deeds on and off the field as seen through the eyes of the many Military Brats he taught and coached for more than 30 years.

Patterson, who was inducted earlier this year into the Dawahares/Kentucky High School Athletic Association's Hall of Fame, died at his Clarksville, Tennessee, home in January 2014 at the age of 79. During his tenure at FCHS, the Falcons won three state football championships and one state wrestling crown.

Dollar's book, with 315 pages and more than 50 photographs, is chalked full of names of prominent Falcon alumni who played for Patterson during the 1960s, 1970s, 1980s, and early 1990s.

It was Patterson who started the FCHS football program in the fall of 1962 and the wrestling program in 1964. He retired in 1995.

Dollar graduated from Fort Campbell High School in 1975 and was a backup quarterback for the Falcons for three seasons. He said the book was a labor of love.

"Marshall Patterson, or Coach P as we all knew him, was special in so many ways," Dollar said. "As a teacher and mentor, he cared deeply for all the students at FCHS. During his lifetime, he helped mold young men and young women into decent human beings. And for that, we will forever be grateful to him, and also his family, for their sacrifices over the years."

"Father of the Falcons" is available from Amazon.com, Books-A-Million, Barnes & Noble and other major Internet book-sellers.
About Author Rob Dollar
Rob Dollar, an independent journalist and author, lives in Hopkinsville, Kentucky. A 1975 graduate of Fort Campbell High School, he attended college at Eastern Kentucky University in Richmond, Kentucky, where he earned bachelor's degrees in police administration and journalism.
Mr. Dollar worked for six newspapers in three states as an award-winning reporter and senior editor during a journalism career that spanned 24 years. Most of his newspaper days were spent at the Hopkinsville, Kentucky, daily paper—the Kentucky New Era—where he started out as a reporter and retired as the managing editor in July 2003. He worked for The Leaf-Chronicle in Clarksville, Tennessee, for two years in the early 1980s as a police and courts reporter.
Dollar and a former newspaper colleague, Tim Ghianni, are the co-authors of two critically-acclaimed books— "When Newspapers Mattered: The News Brothers & their Shades of Glory" (2012, Published by Westview Inc.), and "Monkeys Don't Wear Silver Suits: Kelly's Little Green Men & the 2017 Total Solar Eclipse" (2014, Published by Westview Inc.).
Sections
Arts and Leisure
Topics
Clarksville TN, FCHS, Fort Campbell High School, Hopkinsville KY, Kentucky New Era