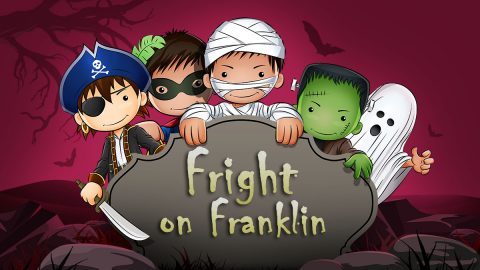 Clarksville, TN – Hundreds upon hundreds of people descended on Downtown Clarksville Saturday afternoon, October 29th for the 8th annual Fright on Franklin safe trick-or-treating event.
All along Franklin Street and Strawberry Alley, there were booths provided by local businesses handing out candy treats. Booths were decorated for Halloween and some even had a theme like the witches from Hocus Pocus.
"This was my first time coming to Fright on Franklin. It's a really cool event," said April Hamilton. "Almost everyone here is dressed up in a costume, including the adults. I will be putting this on my to do list for next year."
Fright on Franklin is hosted by the Clarksville Department of Parks and Recreation Department along with Downtown Businesses to offer a free safe trick-or-treating event for the community. The event also featured a costume contest, Halloween themed activities along with food and drink.
The costume contest was the highlight of the day. Categories were Newborn to two-years-old, three to six-years-old, seven to nine-years-old, 10 to 12-years-old, and group costumes. The costumes were all original and some of them were simple fantastic.
"I thought today was fantastic. What a wonderful opportunity for families in Clarksville to come out and have a safe time to enjoy safe treat or treating and enjoy time their families," stated Clarksville Mayor Kim McMillan. "It was a wonderful event. I think it was even bigger than last year. We are so proud of everyone that came out here and participated in all the events."
Fright on Franklin was simply a frightening good Halloween event. Make sure to come out next year. Start thinking about a costume today.
Photo Gallery