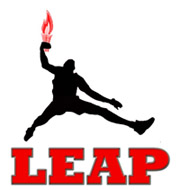 Clarksville, TN – Convergys Corporation, a customer care, sales and technical support organization participated in Leap Youth Organizations Career Readiness Mock Interview Night, on Monday, October 24th, as a part of the comprehensive, hands-on group learning experience touted to build youth and young adults' ability to prepare for work in Clarksville, Montgomery County Convergys representatives, Sharon Kirby, Shanta Curry, and Daniella Stufflebean interviewed eight youth providing accolades for those who were able to make great first impressions.
Speak with confidence and answer specific career questions. She/he proudly states that their company leads the ways in encouraging youth to become prepared to enter the world of work by collaborating with Leap Organization.
Elijah Annor, expert Career Readiness Facilitator for Leap Organization recognized that training young people on best practices in business etiquette, addressing business professionals, asking and answering questions and communicating their unique marketable value to employers will increase youths chances of experiencing positive interactions with business while job seeking.
He spotlighted participants, Nicholas Viette, Dominic Boucher, and Chelsey Kirkland during their monthly business sessions with Leap Organization.
Chelsey Kirkland, high school graduate completed her mock interview with Convergys Interviewer Sharon Kirby. Chelsey demonstrated that she is eager to learn and speak up when asked questions. She desires to become a part of the Convergys family when she is able to work. She received feedback that she is helpful, and has a great attitude.
Dominic Boucher, high school graduate has a past history of working with his family yard sale business. He met with Shanta Curry, Convergys representative. Shanta advised Dominic that he is a very good speaker and problem solver. Dominic's mock interview shined as he conducted company research prior to his interview.
Nicholas Viette, senior at West Creek High School, shared his best asset with interviewer, Daniela Stufflebean, as he shared that he plans to be a flexible worker and work additional hours if needed from his employer. He stated that he understood the importance of being a team player as he is a football and soccer player. He received feedback to relax and understand that based on his past experiences his future is quite bright!
Since 2009, Leap has service over 1100 participants, aged 11 to 18. Over 90% of those serve have graduated high school and with many enrolling in college or joining the military. To enroll your youth in the Leap Organization program, please call 931.614.0440 or visit us at www.leaporg.net
To inquire about Leap's Career Readiness Program to learn via interactive job readiness training, workshops, internships and job placement, contact leap at info@leaporg.net