Clarksville, TN – Shortly before 11:00am Sunday, December 4th, a silver Hyundai Sonata left the roadway near Governor's Square Mall and slammed into a retaining wall at what police are calling a significant rate of speed.
The call was dispatched to first responders at 11:00am. District Three Patrol Officer Coz Minetos was the first responder to arrive, at 11:02am.
"This is one of the most dramatic impacts I've ever seen," stated Minetos.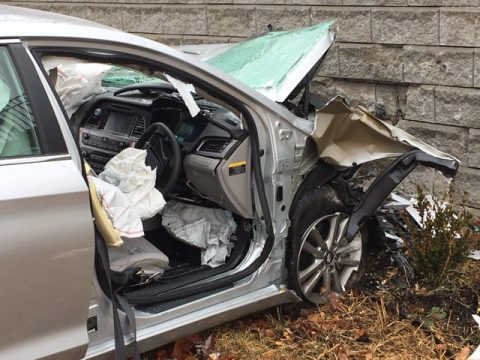 All four occupants of the Sonata, which bears a North Carolina license plate, were seriously injured.
One occupant had to be extricated from the heavily damaged car by Clarksville Fire Rescue. Numerous emergency vehicles, including several ambulances, were dispatched.
Clarksville Police Traffic Division Investigator John Reyes is in charge of the crash investigation. Several witnesses have been interviewed at the scene. No other vehicles or drivers are believed to have been involved at this time.
"You can see where the wall is actually pushed back," added Minetos. "I'm surprised they're all alive."
Photos