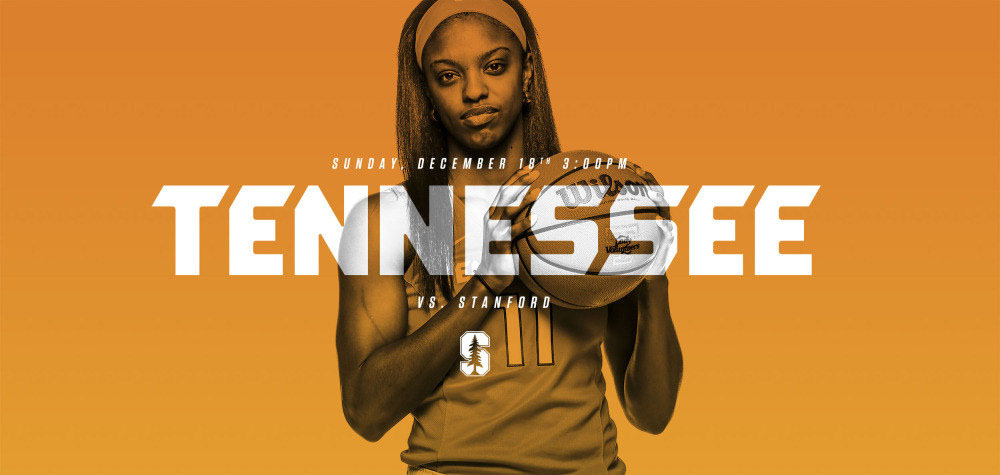 Tennessee vs. #10/10 Stanford
Sunday, December 18th, 2016 | 2:00pm CT
Knoxville, TN | Thompson-Boling Arena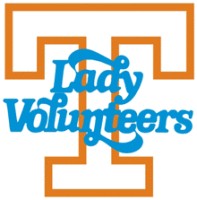 Knoxville, TN – Tennessee will renew its cross-country women's hoops rivalry with No. 10/10 Stanford at Thompson-Boling Arena on Sunday afternoon at 2:00pm CT.
The contest will be televised on SEC Network. It will also be available online through SECN+/WatchESPN. Visit WatchESPN.com or download the WatchESPN app to view the game on a computer or mobile device. Beth Mowins (PxP), Rebecca Lobo (Analyst) and Steffi Sorensen (Reporter) will describe the action between the Lady Vols and the Cardinal.
Fans can also tune into their local Lady Vol Network station to catch Mickey Dearstone describing the action.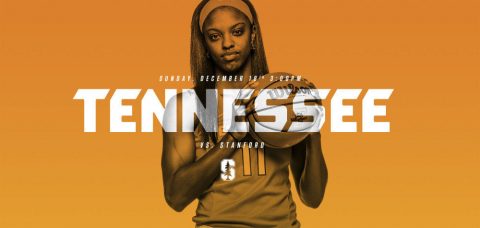 NR/RV Tennessee vs. #10/10 Stanford
NR/RV Tennessee (5-4) plays its second of five straight games at home when #10/10 Stanford (8-1) comes to Knoxville for a Sunday matinee.
The Lady Vols and Cardinal will meet at 2:00pm CT in Thompson-Boling Arena.
Sunday is Knox County Schools Day, with fans who donate two school supply items receiving one complimentary ticket. Donations benefit the Knox County School Supply Depot, supporting local teachers and education.
Sunday games also mean the return of the popular Kids' Corner. Located on the concourse at Gate F, Kids' Corner features face painting, the Big Orange Prize Wheel, visits from Smokey and cheerleaders, arts and crafts, and more.
Broadcast Information
Beth Mowins (PxP), Rebecca Lobo (Analyst) and Steffi Sorensen (Reporter) will describe the action for the Tennessee-Stanford television broadcast on the SEC Network.
All of the games included in the SEC Network (SEC Network, SECN+) package and the ESPN package (ESPN, ESPN2, ESPNU) will be available through WatchESPN, accessible online at WatchESPN.com, on smartphones and tablets via the WatchESPN app, and streamed on televisions through Amazon Fire TV, Apple TV, Chromecast, Roku, Xbox 360 or Xbox One to fans who receive their video subscription from an affiliated provider.
Mickey Dearstone will handle the call for the IMG College/Lady Vol Network radio/online broadcast. Airtime is 30 minutes prior to tip-off on network stations.
Warlick On Cusp of 1,000 Coaching Wins
Holly Warlick owns a 999-214 record in her 36th season in the coaching profession. Her next victory will take her to a career milestone.
She is 944-160 in her 32nd season at UT and was 55-54 combined in stops at Nebraska and Virginia Tech.
Warlick is 113-38 as a head coach and 886-176 all-time as an assistant.
Home Sweet Home
This is the 30th season that the Tennessee women's and men's basketball teams have called Thompson-Boling Arena home, and the Lady Vols own an incredible 418-33 mark (.927) in the venue.
All-time, the Lady Vols have a 571-57 (.909) home record in games played at Thompson-Boling Arena, Stokely Athletics Center and Alumni Gym.
UT is 3-1 at home in 2016-17.
Thompson-Boling Arena has an official seating capacity of 21,678.
UT has led the nation in attendance 19 times in the past 25 years, finishing second the past two years after an 11-season run at No. 1.
Tennessee ranks fourth this season (8,282).
Tennessee-Stanford Series Notes
This is the 34th all-time meeting between these programs, and the Lady Vols own a 23-10 record vs. the Cardinal in a series that dates back to December 18th, 1988.
These teams have played 32 times when both schools were ranked in the top 25, and there have been 14 occasions when both programs were ranked in the top five of either the AP or coaches polls.
This marks the second time one of the schools wasn't ranked at the time they played, with Stanford filling that role the last time, back on December 19th, 1998.
Last year's game marked the first time in the history of the series that at least one of the teams was not ranked in the top 10.
Stanford has won five of the last seven in the series, including the last five tilts at Maples Pavilion.
Tennessee, however, is 12-2 in Knoxville vs. Stanford and 6-0 at neutral sites.
One of those neutral site wins for Tennessee, came in the Lady Vols' run to NCAA Championship trophy number eight, when the Lady Vols defeated Stanford, 64-48, on April 8th, 2008, in Tampa, FL.
Tennessee won 11 games in a row over their West Coast foes from 1997-2006.
UT and SU have needed overtime to settle scores in six contests, with the club from Rocky Top holding a 4-2 record. Tennessee is 2-0 in OT games played in Knoxville.
UT is 66-19 vs. the Pac-12 Conference, with wins at Oregon State and at Arizona State last year and a loss at Stanford.
The Last Meeting Between These Teams
Jaime Nared and Bashaara Graves combined for 20 fourth-quarter points and nearly led No. 14/16 Tennessee back from a 21-point deficit before the Lady Vols fell to No. 15/14 Stanford, 69-55, on December 16th, 2015, at Maples Pavilion.
Nared, who made her season debut vs. the Cardinal, scored all 12 of her points in the fourth quarter and also had three rebounds. Graves scored eight of her 10 points in the fourth quarter and ignited the late Tennessee (7-3) surge. She also had five rebounds and three assists and went 6-of-7 from the free-throw line.
The Lady Vols outscored Stanford (7-2), 25-21, in the fourth, but it was not enough, as the Cardinal controlled the first three quarters.
Diamond DeShields added 12 points and four rebounds in the loss. Mercedes Russell had seven points and a team-high eight rebounds.
Stanford's Lili Thompson led all scorers with 19 points on 7-of-13 shooting and also had seven rebounds and four assists. Erica McCall posted a double-double with 14 points and 10 boards and Kaylee Johnson added 10 points.
Most Recent UT-SU Meeting In Knoxville
In a match-up of two of the most-storied programs in women's basketball history, #11 Tennessee's defense made history in defeating #7 Stanford, 59-40, before 13,056 at Thompson-Boling Arena on December 20th, 2014, in the most-recent meeting in Knoxville between these schools.
The Lady Vols improved to 9-2 overall while the Cardinal dropped their second game in the Volunteer State and fell to 6-4. Stanford lost at Chattanooga on December 18th, 54-46.
The programs have combined for 10 National Championship, 30 NCAA Final Fours and more than 2,000 victories.
The Lady Vols added another piece of history. In holding Stanford to just 40 points, it was the fewest points Tennessee allowed to a Top-10 opponent team in history.
The previous low for a Top-10 foe was when the Lady Vols beat #3 Louisiana Tech, 67-44, on March 29th, 1987.
Tennessee snapped a three-game losing streak in the series
The Lady Vols limited Stanford to 25.5 percent from the floor. Tennessee forced the Cardinal into 20 turnovers and won the war on the glass, 45-31.
Senior Ariel Massengale led Tennessee in scoring with 18 points, including 4-of-8 from 3-point range. Junior Bashaara Graves had her sixth double-double of the season with 10 points and 10 rebounds.
Stanford's leading scorers Lili Thompson (18.4 ppg) and Amber Orrange (13.4) were held to a combined 17 points with Thompson leading the Cardinal with 13.
Lady Vol Junior Trio Leading The Way
Tennessee has been paced by its junior trio of 6-foot-6 center Mercedes Russell, 6-1 guard Diamond DeShields and 6-2 forward Jaime Nared.
Those three players are the team's top scorers and rebounders through nine games, and they have combined for 12 double-doubles.
A preseason All-SEC Second Team pick, Mercedes Russell is having a breakout season.
Her stats after seven games include a team-leading 16.3 ppg. and 8.6 rpg. while hitting 53 percent on field goals and 68 percent on free throws.
Russell has notched double-doubles in five of her first nine games this season to give her 16 for her career.
In her first two seasons of play, Russell had only four games of 15 or more points. She has 15 or more points in eight of nine games this season.
Nared is off to the best start of her career, as well, averaging 14.4 points and 8.4 rebounds while shooting 87 percent from the free throw line and is second on the team with 11 steals.
She rang up double-doubles in four consecutive games, tallying 18 points and 11 rebounds vs. Penn State, 11/10 vs. Virginia Tech, 16/10 vs. Tennessee State and 19/11 vs. Baylor before it came to an end with a career-high 22 points and only five rebounds vs. Texas. She added another D-D vs. Appalachian State with 15 points and 10 rebounds.
Nared already has four of the top scoring efforts of her career in her first nine games this season with 19 vs. James Madison and Baylor, 18 vs. Penn State, and 22 vs. Texas.
Her four-game streak of doubles-doubles marked the first time since early in 2015-16 she had strung together consecutive games scoring in double figures since doing so vs. Stetson (12), Missouri (13) and Florida (10).
Nared's father, Greg, played basketball at Maryland and is now the director of camps and community basketball with the NBA's Dallas Mavericks.
A preseason All-SEC First Team selection, DeShields is a do-it-all player who is averaging 15.3 points per game to rank second on the team. She ranks second in assists (3.2) and blocks (1.3), third in rebounding (6.3) and fourth in steals (1.0). She is shooting 42% from the field, 38% on threes and 81% from the charity stripe.
DeShields has scored 15 or more points in five of the past seven games and has recorded a pair of double-doubles to match her total of a year ago.
She has dished out five or more assists in four games thus far.
DeShields is the daughter of retired Major League Baseball standout Delino DeShields and brother of current Texas Rangers outfielder Delino DeShields Jr.
Lady Vols Odds And Ends
UT played some of its best basketball of the season in the loss vs. #17/17 Texas last Sunday, matching its (then) season low for turnovers with 12.
The Lady Vols lowered their miscue number to a season-best six vs. Appalachian State. That mark was the finest by Tennessee since recording six vs. South Carolina on February 23rd, 2015.
Alexa Middleton, who posted her second 20-point scoring effort of the season in her last game, is averaging 13.0 points per game at home and shooting 44% from the field and 54% from beyond the three-point arc. She also has 19 assists to nine turnovers in those games.
Middleton averages 15.0 ppg. in wins, hitting 52 percent from the field and 67% from three-point land. She also posted 21 assists vs. 10 turnovers.
UT is shooting .478 from the field in games they've won and .354 in losses.
Tennessee had season highs in field goals (35), bench points (41) and second-chance points (22) vs. App State and tied its top mark in 2016-17 for the most points in the paint (50).
The Lady Vols are undefeated (4-0) when they have seven or more steals.
UT Rolls Past Appalachian State, 92-66
Five Lady Vols scored in double figures, as Tennessee (5-4) snapped a two-game skid with a 92-66 victory over Appalachian State on Wednesday night at Thompson-Boling Arena.
Junior guard Alexa Middleton led all UT players with 20 points, while Jamie Nared recorded her fifth double-double in the last six games with 15 points and 10 rebounds. The Big Orange got a huge lift from the bench with a season-high 41 points from the reserves on the night.
After giving up 24 first-quarter points, the Lady Volunteers clamped down defensively and held the Mountaineers to just 41 points combined for the rest of the game. UT also was efficient on the offensive end, shooting 49 percent for the game while committing just six turnovers, the fewest since a 71-66 loss at South Carolina on February 23rd, 2015.
Tennessee dominated down low, outscoring App State 50-28 in the paint and finishing with a 44-35 advantage on the boards.
The Mountaineers (4-6) jumped out to an early 7-2 lead and led 24-20 at the end of the first quarter, thanks to some red-hot shooting, converting 11 of their 15 shot attempts in the quarter. Middleton came off the bench and shouldered the offensive load for the Big Orange in the opening frame with 10 points on 5-of-6 shooting.
UT went on an early 8-0 run in the second quarter and outscored App State 25-10 in the period to take an 11-point lead into the locker room. Middleton and Diamond DeShields led all scorers in the first half with 12 points apiece, as the Lady Vols shot a blistering 53 percent from the field.
About the Cardinal
Stanford (8-1) is riding a six-game winning streak, with its only setback this season being a 68-63 home loss to Gonzaga on November 18th.
The Cardinal posted a home win over a recent Tennessee opponent, Texas. Stanford defeated the Longhorns at Maples Pavilion, 71-59, on November 14th.
Senior forward Erica McCall paces Stanford, averaging 17.2 ppg. and 8.6 rpg. McCall was an All-Pac-12 and Pac-12 All-Defensive Team selection a year ago.
McCall is the younger sister of former Auburn star and current WNBA Phoenix Mercury player DeWanna Bonner.
Stanford head coach Tara VanDerveer's career record stands at 988-226, meaning she is only 12 away from joining late Lady Vol coach Pat Summitt as the only NCAA women's basketball coaches with 1,000 career wins.
Freshman guard Anna Wilson's is the younger sister of Seattle Seahawks quarterback Russell Wilson.
Freshman DiJonai Carrington is the daughter of eight-year NFL veteran Darren Carrington, who played for Denver, Detroit, San Diego, Jacksonville and Oakland during his career.
Karlie Samuelson's older sister, Bonnie, played for Stanford and younger sister Katie Lou plays for Connecticut.
UT And Standford Team Up For Gold
Tennessee head coach Holly Warlick, Lady Vols Diamond DeShields and Mercedes Russell, and Stanford's Erica McCall teamed up for Team USA two summers ago.
Warlick was an assistant and McCall, Russell and DeShields played on the United States team that won a gold medal at the 2015 World University Games in South Korea. The team finished undefeated at 6-0.
Stanford Cruises To Win Over UC Davis
Erica McCall notched her third consecutive double-double and No. 11 Stanford led wire-to-wire in beating UC Davis 68-42 on December 4th.
Stanford (8-1) scored the game's first six points and never trailed. The Cardinal was up 20-8 after a first quarter in which it shot 66.7 percent and held UC Davis (5-2) to 16.7 percent. Stanford made eight of its first 10 attempts from the floor, including a perfect 4-of-4 start from McCall. The senior ended up scoring 17 points on 7-of-13 shooting to go along with a season-high 13 boards.
Brittany McPhee added 11 points for the Cardinal.
UC Davis pulled with eight early in the second quarter when Rachel Nagel made a layup with 7:00 until the half. Stanford answered with a 12-0 run over the next 4:18 and held a 36-20 edge at the break.
What's Next for UT Lady Vols
After facing Stanford on Sunday, Tennessee welcomes Troy (December 21st, 7:00pm) and UNCW (December 29th, 7:00pm) to wrap up the 2016 portion of the schedule.
The Lady Vols open 2017 and SEC play with a New Year's Day tussle against #19/23 Kentucky (4:00pm).
After matching up with the Lady Vols, Stanford's road trip continues in Washington, D.C., with a December 21st contest at George Washington.