Tennessee Athletics Department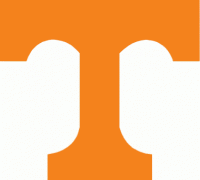 Knoxville, TN – Robert Hubbs III scored 19 points to lead four Vols in double-figures as Tennessee took a 91-74 win over Mississippi State on Saturday at Thompson-Boling Arena.
Tennessee (10-9, 3-4 SEC) limited its mistakes, committing just seven turnovers against the Bulldogs (12-6, 3-3 SEC), and dominated the glass with a season-high 49 rebounds to Mississippi State's 35. UT's 14-rebound advantage was also its largest of the season. After an even first half, the Vols used a pair of second-half runs to take control of the game.
UT's 91 points in the win marked its most in SEC play this season and the most MSU has surrendered this year.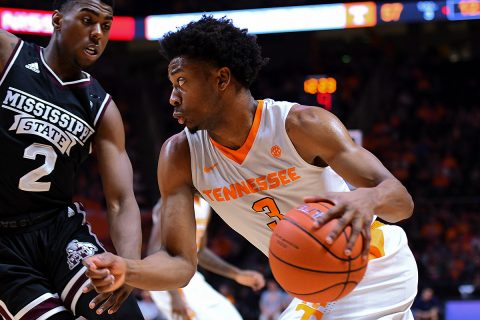 Hubbs enjoyed an efficient night of shooting, going 8-for-11 while also posting five rebounds and three assists.
Grant Williams
scored all 17 of his points in the Vols' dominant second half.
Admiral Schofield
had 15 points and seven rebounds, and
Jordan Bowden
added 14 points and seven boards.
Schnider Herard led Mississippi State with 14 points and 11 rebounds. Lamar Peters and Quinndary Weatherspoon had 11 points each.
The first 11 minutes of the game stayed within one possession. With Mississippi State up, 20-18, Lamonte Turner cut along the baseline for an acrobatic layup to spark a 12-2 Tennessee run over the next three minutes. Hubbs followed Turner's layup with a dunk after a steal at the opposite end and ignited the crowd with a 3-pointer from the left wing. The Vols maintained the lead for the remaining six minutes of the first half.
Hubbs led all players with 13 points at halftime after making six of eight shots in the first half. Both teams shot under 40 percent in the first half, with the Vols at 38.9 percent (14-of-36) and Mississippi State at 37.9 percent (11-of-29).
The Bulldogs briefly took the lead when Herard made a layup 18 seconds into the second half. Williams knocked down a 3-pointer 17 seconds later to spark a 15-4 Tennessee run over the next three minutes and give the Vols a 52-42 advantage.
Schofield threw down a dunk with 13:34 remaining and started a 29-11 UT run over the next eight minutes to give the Vols their largest lead of the game at 84-60. Bowden made two 3-pointers and scored eight points and Schofield accounted for six points during that span.
The Vols shot 54.8 percent (17-for-31) from the field in the second half, including a 4-for-6 effort from 3-point range.
Big on Boards
The Vols had 19 offensive rebounds, marking the sixth time they had corralled 15 or more this season. UT had a season-high 20 against Gonzaga on December 18th.
Jordan Bone had six rebounds on the season entering Saturday's game. He matched that total with six against the Bulldogs.
Schofield Scoring
Schofield has averaged 11.4 points over the last five games. He was averaging 3.9 points per game in the 10 games before that.
Up Next for UT Vols
Tennessee will play No. 5/5 Kentucky on Tuesday, January 24th, at 9:00pm at Thompson-Boling Arena. The game will feature an ESPN broadcast.
Video