Clarksville, TN – Brittney Honeycutt was sworn in as the newest Clarksville police officer Wednesday morning, March 1st, 2017. Clarksville Mayor Kim McMillan administered the oath of office to the former Oak Grove, Kentucky officer in an 8:30am ceremony at the mayor's office.
Honeycutt comes to the Department with two and one-half years of experience as an Oak Grove officer.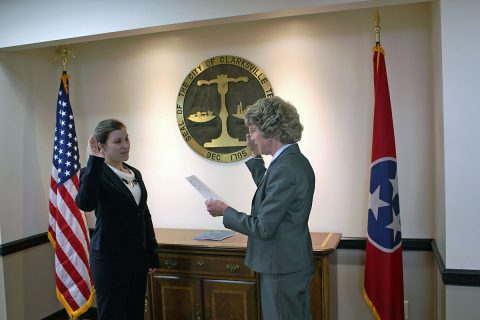 Her Kentucky law enforcement certification makes her eligible for the three-week transition course for certified officers from other states at the Tennessee Law Enforcement Training Academy.
Honeycutt, a 2009 graduate of Dickson County (TN) High School, expressed excitement about her new job.
"There are more opportunities for advancement here and the Clarksville Police Department has an excellent, professional reputation in the law enforcement community, "stated Honeycutt.