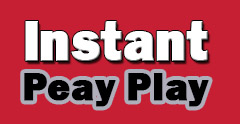 Clarksville, TN – Austin Peay State University will be holding a press conference March 6th at the Dunn Center – on the court that bears his name — to not only announce the retirement of long-time head men's basketball coach Dave Loos, but to also celebrate one of the greatest legacy's any coach at any Ohio Valley Conference institution.
For the last 27 years, Loos has patrolled the sidelines of basketball courts in the OVC accumulating an all-time conference best 421 victories, over 100 wins more than the prior all-time win's leader Cal Luther – who finished with 319 victories in 1999.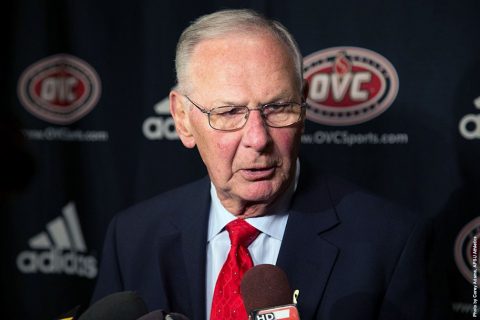 Loos' 27 years as head coach is also far and away the longest in the school's history, with Dave Aaron having the second longest tenure in the programs history at 16 years.
Overall, Loos recorded 502 career wins make him just the 97th head coach at the NCAA Division I level with at least 10 years coaching at that level to reach that milestone.
That 500+ win total also makes him just the fourth head coach that has ties to the OVC to reach that plateau, joining Luther – who coached at Murray State and UT Martin – Belmont's Rick Byrd and Gene Keady, who began his career at then OVC member Western Kentucky.
Those 500+ wins earned Loos-coached teams five regular-season conference titles – including a perfect 16-0 mark in 2004 — 23 trips to the OVC Tournament, with four tournament titles and seven runner-up finishes.
There were also eight post-OVC Tournament appearances coming in the NCAA Tournament (4), NIT (2), CBIT (1) and CBI (1).
Loos coached 39 players that earned All-OVC honors, two All-Americans in Bubba Wells and Trenton Hassell and 30+ players to play professionally after college around the world.
Those numbers by themselves would be impressive enough, in their own right, but during a major part of that run (1997-2013) he was also the school's Athletics Director – almost unheard of at the Division I level — with the department's sports winning 33 OVC titles over that span – arguably the best run in school history.
These are just a few of the honors and accomplishments that Loos has been a part of since becoming head coach prior to the 1990-91 season. The list is just too long to name them all.
March 6th press conference should be a celebration of a career done well and done with honor and class, hopefully all Govs fans — as well as people from the Clarksville community in general — come to the event and honor coach Loos and show appreciation for an unparalleled in APSU history.