APSU Sports Information
Clarksville, TN – Professional baseball has reached the All Star Break and you can find a record 13 Governors alumni playing professional baseball level, including two at the Major League level.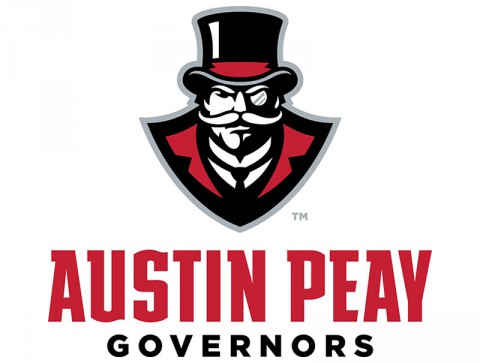 As has become an annual tradition at LetsGoPeay.com, it's time for a quick look at how each of those Austin Peay alumni are doing during the 2017 season.
And don't forget, Govs alumnus Tyler Rogers and the Pacific Coast League All-Stars will take the field against the International League All-Stars in the Triple-A All-Star Game at 7:05pm (CT), Wednesday. That game can be seen live on the MLB Network.
A.J. Ellis, Miami Marlins
Ellis took his talents to South Beach during the offseason, joining the Miami Marlins where he has been the No. 2 catcher this season. Even with limited at-bats this season, Ellis has made a mark supplying a pair of game-winning hits for the Marlins.
Of course, his most recent game-winning hit helped Miami win its final game before the break – a two-run home run in the not-so-friendly confines of AT&T Park in San Francisco.
Ellis also had a hand in breaking up Max Scherzer's no-hit bid in late June, fighting off a pitch for an infield single in the eighth inning against the Washington Nationals.
One month earlier, Ellis ground out a memorable 14-pitch at-bat and won the battle with a single that provided the game-winning RBI in a 6-5 victory at home against the Arizona Diamondbacks.
Of course, the month of May saw Ellis return to his long-time stomping grounds when the Marlins met the Los Angeles Dodgers, where he played eight seasons. The Dodgers welcomed their old backstop back to Dodger Stadium with a pregame tribute video and Ellis responded by driving in the Marlins first run of the game.
Shawn Kelley, Washington Nationals
In his second season with the Nationals, Kelley has been battling an injury bug that has put him on the disabled list twice this season. Still, he has appeared in 22 games out of the bullpen in between stints on the DL and compiled a 3-2 record with four saves.
During an April 14-21 stretch, Kelley put together his best string of outings with a win or save in five consecutive appearances. It was part of a six-outing scoreless stretch by the bearded reliever, that saw him allow just two hits over five innings as he pushed his ERA to a season-low 4.50.
In the minors…
Ryne Harper, Tacoma Rainers (Triple-A)
Ryne Harper began the season at the Triple-A level for the first time in his career and, for nearly a month, was on the Seattle Mariners 40-man roster. That month included a three-day stint with the Mariners during their road trip to Boston.
It's been an impressive season in Tacoma for Harper, who has posted a 3-2 record and converted each of his three saves opportunities in 26 relief appearances. After opening the season by not allowing a run in his first five relief appearances, he built on that with an impressive stretch from May 3rd-June 1st where he did not allow a run in eight outings totaling 9.2 innings – his ERA hitting 1.80 during that stretch.
Matt Reynolds, Sacramento River Cats (Triple-A)
Reynolds signed a minor league contract with San Francisco during the offseason and was assigned to their Sacramento club before the season began. One of two Governors alumni on the River Cats roster, Reynolds has compiled a 2-1 record in 29 relief appearances this season.
The southpaw put together an incredible run from April 24th-June 2nd that saw him allow just one earned run in 15 appearances totaling 16.2 innings pitched as his ERA plummeted to 1.23 at the end of the stretch.
Tyler Rogers, Sacramento River Cats (Triple-A)
Rogers also has made the most of his second season at the Triple-A level. His 2.24 ERA in 52.1 innings pitched is the second-best ERA among Pacific Coast League pitchers with 50-plus innings this season and his 2.84 ground-ball to fly-ball ratio is the best in that group of pitchers. That was more than enough for Rogers to earn the first midseason All-Star nod of his career and he will play in the Triple-A All-Star game Tuesday night on the MLB Network.
Casey Delgado, Binghamton Rumble Ponies (Double-A)
After beginning 2017 as a starting pitcher, Delgado was moved into a bullpen role as July started. Before moving to the bullpen, Delgado put together a streak of eight consecutive starts without a loss in May and June, erasing a 0-4 start to the season with a 5-0 record and 3.53 ERA over those last eight starts.
Ridge Smith, Lansing Lugnuts (Single-A)
Smith has spent the bulk of 2017 with Class-A Lansing, playing 24 games this season. He made a brief appearance at the High-A level Dunedin Blue Jays in July, playing two games before returning to Lansing. Smith has a .239 batting average and 11 RBI with the Lugnuts, but has shown a more discerning eye at the plate with 14 walks in his second pro season after finishing last season with eight walks in 100 plate appearances.
Jared Carkuff, Lansing Lugnuts (Single-A)
Carkuff has played at all three Class-A levels in 2017, beginning the season at Dunedin (High-A), then spent a short stint at short-season Vancouver. But the Bell Buckle, Tennessee native's last five outings have come with Single-A Lansing, where he is still getting acclimated. Altogether, he has compiled a 1-2 record and a save over 17 appearances this season.
Garrett Copeland, Aberdeen Ironbirds (Short-Season A)
Copeland moved to the Baltimore Orioles Short Season affiliate in June after opening the season in extended spring training. He burst onto the scene at Aberdeen with consecutive two-hit outings in his first three starts. It was enough to earn him a two-game promotion to Advanced-A Frederick, before returning to Aberdeen. Copeland entered the majors All-Star Break with a three-game hit streak and has a .290 batting average this season.
Logan Gray, Idaho Falls Chukars (Rookie)
Gray also began 2017 at extended spring training before the Kansas City Royals assigned him to their Rookie-level affiliate. Still working to recover from an injury that hampered him most of last season, Gray hit his first professional home run, June 25th. He enters the MLB All-Star Break with a four-game hit streak (5-for-14) that ended a slow start to the short season.
After being drafted this season, Robles was assigned to the Minnesota Twins Gulf Coast League affiliate in Florida. In just his first 10 games as a professional, Robles has bolted out to an team-best .351 batting average. Yet to pitch this season, he has seen time at first base, second base, third base, left field and right field as well as at designated hitter. Robles has a hit in eight of his first 10 games and four multi-hit outings as a professional.
Independent Leagues
Craig Massoni, Southern Illinois Miners (Frontier League)
Massoni began his fifth professional season with the Frontier League's Gateway Grizzlies, where he hit 14 home runs last season. He had five home runs in 38 games with the Grizzlies this season before he was traded June 26 to the Southern Illinois Miners. Massoni has played just 12 games with his new club, which is just up the road in Marion, Illinois.
Dre Gleason, Sioux City Explorers (American Association)
Just before the Independence Day holiday, Gleason saw his hopes of continuing his baseball career answered when the Sioux City Explorers signed him. He made his first professional start on Independence Day and now has six games played to his credit. Gleason went 3-for-4 with a RBI in his last outing, July 9th.