APSU Sports Information

Clarksville, TN – As part of a historic partnership between Austin Peay State University and Fort Campbell, the men's basketball game scheduled for November 22nd, 2017 against Bethel will take place at Shaw Fitness Center on the Fort Campbell military installation.
This will be the first-ever contest involving collegiate basketball programs at Fort Campbell, and the Governors first home contest away from the Dunn Center since it opened in 1975.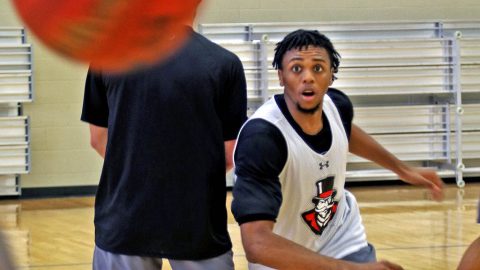 In conjunction with the U.S. Army's 101st Airborne Division, Fort Campbell Garrison and Fort Campbell's MWR (Family and Morale, Welfare and Recreation) division, the Govs and Wildcats will tip-off at 3:00pm the day before Thanksgiving, providing a one-of-a-kind opportunity for our distinguished men and women in uniform and their families to experience college basketball right on post.
"We are very excited to host this event on Fort Campbell," said Capt. William Ibrahim, who helped organize the event. "This will be an outstanding opportunity for members of the APSU and Clarksville community to see some of the base and interact with the soldiers serving our nation, as well as see a great game!"
The Governors spent Tuesday at Fort Campbell, practicing at Shaw, dining with military personnel and taking air assault training courses. Austin Peay also will spend time on the base prior to the November 22nd with military personnel and their families.
"I'm really excited for us to come out to Fort Campbell," said head coach Matt Figger. "I think it gives us an understanding of who is protecting our freedoms, our amendments, our rights as citizens. It's guys the same age as our guys — guys between the ages of 18 and 24 years old. It allows our guys to see just how important the soldiers are to our community, to our country and to our freedoms, and it's a way for us to say 'thank you' to them."
This is not the first time the Govs have put on a show at Fort Campbell. Austin Peay played regimental units from Fort Campbell on several occasions during the pre- and early post-World War II era, playing on base at least twice (in 1946 and 1950).
Austin Peay and Fort Campbell have long been intertwined on the field of competition. In 2014, Austin Peay football played its Spring Game at Fryar Stadium during then-Governors Stadium's renovations, and played an annual series known as the Charity Bowl against a regimental All-Star team from Fort Campbell from 1954-64 at then-Municipal Stadium.
Seating at Shaw Fitness Center will be limited to roughly 1,400 spectators. This is not a ticketed event; admission is free for APSU students and fans as well as service members and their families and entry will be available on a first-come, first-served basis on gameday. Additional details for attending the game will be available at a later date.
Sports Information Director Emeritus Brad Kirtley contributed to the historical accuracy of this release.